EPS Member
Tom Curr
1887-1958
Recollections of Tom Curr

Index

1.

Sandy Brewer
Galloway, SW Scotland

2.

Robert Hepburn
Cornwall: March 22, 2007

George Powrie
Menai Bridge, Anglesey, Wales:

3.

Sandy Brewer
Galloway, SW, Scotland

4.

Pat O'Neil
USA

5.

Dr Lindsay Lennie

6.

Sandy Brewer
Galloway, SW Scotland

7.

Alan Watson
Edinburgh

8.

Douglas Scott
Canada

9.

Sandy Brewer
Galloway, SW Scotland

10.

Bill Scott
Alnwick, Northumberland, England

11.

Bill Scott
Alnwick, Northumberland, England
Recollections
1.
Edinburgh Photographic Society
Exhibitions and Portfolio Group
Tom Curr was one of the three judges (now named selectors) for the EPS Open Exhibition held in February 1936. The other two judges for this exhibition were Mr Keighley and J Campbell Harper.
In October 1938, he spoke to the EPS Portfolio Group
Tom gave his comments on and criticisms of the annual EPS Members' Exhibition in January 1947
Stanley Cusiter
Thank you to Sandy Brewer who wrote:
"I see that Stanley Cursiter was a judge for the EPS Open Exhibition in 1928. He was a great friend of Tom Curr who was a judge for the 1936 exhibition.
They both worked at McLagan & Cumming (colour printers) on Warriston Road, attended art college together (as part of their apprenticeships) and it seems they may have served together in WW1 as it is confirmed that both were involved in the production of military maps.
A biography of Cursiter written by Pamela Beasant was published in 2007 by Orkney Museums and it is very interesting & beautifully produced."
Sandy Brewer, Galloway, SW Scotland September 15, 2008
Recollections
2.
Boys' Brigade
Robert Hepburn recalls the time when he lived at Beaverbank Place, up to the age of 12, in the 1940s:
Message from Cornwall
"Capt Tom Curr had activities going for the 46th Boys Brigade most nights. Hundreds of boys must have gone through the ranks."
Robert Hepburn, Cornwall: March 22, 2007
George Powrie recalls:
Message from Anglesey
"In 1938/39 I was a member of the 46th Boys Brigade. The meetings were held in a small hall in Canonmills, Edinburgh.
I was a drummer in the pipe band and Capt. Curr was always telling me off for having my stockings down around my ankles!
I have a vague recollection of Capt. Curr being a cartoonist in one of the Edinburgh newspapers."
George Powrie, Menai Bridge, Anglesey, Wales: October 28, 2008
Recollections
3.
Paintings
Thank you to Sandy Brewer for sending me the two images below, both of Tom Curr's religious paintings, both showing Jesus, the first against an Edinburgh background.
Please click the thumbnail images below to enlarge them.
Recollections
4.
Painting
Six Children
Thank you to Pat O'Neil, USA, for sending me the image below of another painting by Tom Curr.
Pat wrote:
"This painting is about 1x 2 ft and it's different from the two you have above. it's a picture with 6 children and they are of different race. Jesus is holding a long staff or cane, and it seems like he is having trouble with the little girl coming with him"
Pat O'Neil, USA: February 15 2008 + November 18 2008
Recollections
5.
Buttercup Dairy Company
Thank you to Dr Lindsay Lennie who wrote:
"I'm researching shop architecture in Scotland and have been looking at the Buttercup Dairy Co, which was based in Leith and had over 400 shops across Scotland.
Tom Curr painted a picture of a girl with a brown cow which was then used as the basis for the tile panels which were used in the entrance to all their shops.
Some of these shop fronts still exist, such as in Meadows Lamp Gallery in Edinburgh and in Dunbar and Haddington.
Dr Lindsay Lennie, October 29, 2008
Dr Lindsay Lennie wrote again, giving more information, adding:
Shop Fronts
"I have a fascination for tiled shops, and am currently writing an article for the Tile and Architectural Ceramics Society about James Duncan Ltd, Scotland's greatest tile decorating firm. The firm was based in Glasgow and made tiles for the Buttercup Dairy shops."
Buttercup Dairy Company
"Buttercup Dairy Company was started in 1908 in Leith by Andrew Ewing and continued until 1949. Less than 20 of the original 400 shops now survive. Most are in Edinburgh and elsewhere in Eastern Scotland.
However, the People's Palace Museum in Glasgow has a re-created a Buttercup Dairy shop.
I was in Craiglea Clocks, a shop on Comiston Road, Edinburgh, recently. This is a former Buttercup Dairy Co shop. It still has the original Buttercup Dairy Co tiles in the lobby."
Tom Curr Painting
"This picture, bought at an antique fair, may be a copy of the one that once hung in the Buttercup Dairy Co Head Office in Leith, which was the basis for the tile panels on the Buttercup Dairy Co shop."
Further Information
"I would be grateful to receive any information on:
- Tom Curr
- Buttercup Dairy Company or
- James Duncan Ltd
Dr Lindsay Lennie, October 31, 2008
If you have any further information on any of the above, please email me, then I'll pass on the details to Lindsay.
Thank you. Peter Stubbs: November 13, 2008
UPDATE
Thank you to Ian Thomson, New South Wales for sending me his recollections of working at Buttercup Farm, at the top of Clermiston Hill, Corstorphine.
Peter Stubbs, November 14, 2008
Recollections
6.
Biography
The Life of Tom Curr
Dr Sandy Brewer, Galloway, SW Scotland, is currently writing a biography of Tom Curr.
Sandy tells me that, as part of her research, she is now working her way through a lot of material connected to the Boys' Brigade, not least the original artwork and presentation copies of the photographs of the various pageants: 'Edinburgh Rock', 'Hail Caledonia!' etc.
If you have any information about Tom Curr that you think may be of interest to Sandy, please e-mail me and I'll pass it on to her.
Thank you.
- Peter Stubbs: May 21, 2007
Recollections
7.
BBC and Daniel Stewart's College
Thank you to Alan Watson, Edinburgh, for telling me more about Tom Curr.
Alan wrote:
The Scots Magazine
"An article on Tom Curr appeared in The Scots Magazine in June 1976. The article was by Ronald Falconer, former head of religious broadcasting for the BBC in Scotland. Tom's early Children's TV work is mentioned."
"The book, 'A History of Daniel Stewart's College 1855-1955' by John Thompson contains several of Tom's caricatures of staff members.
It states that Tom supervised the scribing of the school's Second World War roll of honour. He was a Former Pupil (F.P.) and was President the College F.P. Club in 1948-1949.
I remember him coming to the school and giving an illustrated talk."
Alan Watson, Edinburgh: August 10, 2009
Recollections
8.
Memorial Plaques
Thank you to Douglas Scott, Canada, who wrote telling me about a memorial tree on the Riddell estate in the Scottish Borders:
Scottish Borders
"Here are two photos showing memorial plaques embedded in an old tree, including a plaque to Tom Curr.
The tree is on the lands of the Riddell estate near the village of Lilliesleaf in the Scottish Borders.
These photos were provided by Ian Thomson as part of a long chain of emails from various local people trying to figure out where these plaques came from.
I'm guessing that one of the former owners of the estate (the Sprot family) had a connection with the Edinburgh Boys' Brigade."
Douglas Scott, Canada: August 14, 2009
Recollections
9.
Memorial Plaques
Lilliesleaf
"George Hagart, who I have mentioned before, had told me about the plaques and that some ex-members of the BB still camped at the site every year
The first time that the 46th Company of the Edinburgh battalion of the Boys' Brigade camped at Lilliesleaf (courtesy of the Sprott family) was 1928, then they camped there almost continuously until 1988. The camps were interrupted by the Second World War.
The Company used to parade through the village. I have a photograph showing them in preparation for the parade."
Sandy Brewer, Galloway, SW Scotland August 15, 2009
Recollections
10.
Work for Buttercup Dairy
It's a while since I last updated this page, but now Bill Scott has sent a message.
Bill wrote:
Poultry Farm
"I have been speaking to Sandy Brewer, who is writing a biography of the commercial artist, Tom Curr. She believes that he probably painted the watercolour of the poultry farm.
I am pretty sure she is right, since we know that Tom Curr did other work for Andrew Ewing, including the watercolour of the Buttercup head office and the 'girl and cow' painting.
They also knew each other through the Baptist Church."
Bill Scott, Alnwick, Northumberland, England: February 11, 2011
Recollections
11.
Window Transfer
After seeing images of this Buttercup Dairies paper bag, now almost 80 years old, recently added to the EdinPhoto web site ...
... Bill Scott, author of "The Buttercup", a book about the history of the Buttercup Dairy Company, wrote:
"Thanks for pictures of these Buttercup bags. It's amazing what people keep and pleasing that the images are now available to the public.
Slowly but surely we are beginning to resurrect the memories and lost artefacts of the Buttercup."
"I recently acquired a very old Buttercup window transfer, which measure two feet in diameter. It is a copy of the Tom Curr painting and would have been displayed in every Buttercup shop window.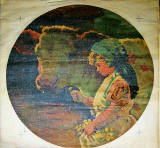 ©
It is still in its original wrapping but is now too fragile to use for its original purpose."
Bill Scott, Alnwick, Northumberland, England: October 27, 2011
Recollections
12.
Sketch in an Autograph Book
Thank you to Allan Dodds who wrote:
Tom Curr Sketch
"When I was about twelve years of age my parents took me to a ceilidh where I met Tom Curr, Ian Robertson and Tom Fleming.
Learning that I attended George Heriot's School, Tom Curr signed my autograph book with this lighting sketch of a rugby player wearing Heriot stripes. The sketch took him all of thirty seconds to produce."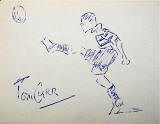 ©
Allan Dodds, Nottingham, Nottinghamshire, England: July 16, 2014