Portrait in oil by
John Horsburgh Senr.
Captain Bromfield DSO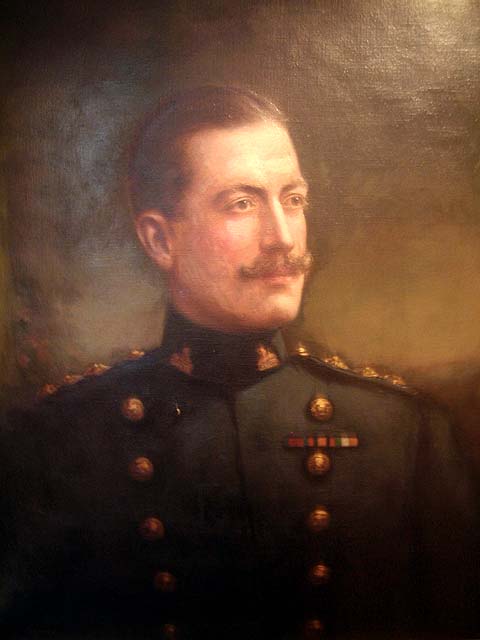 © Reproduced with acknowledgement to Mike Balcom-Vetillo, Earlville, Illinois, USA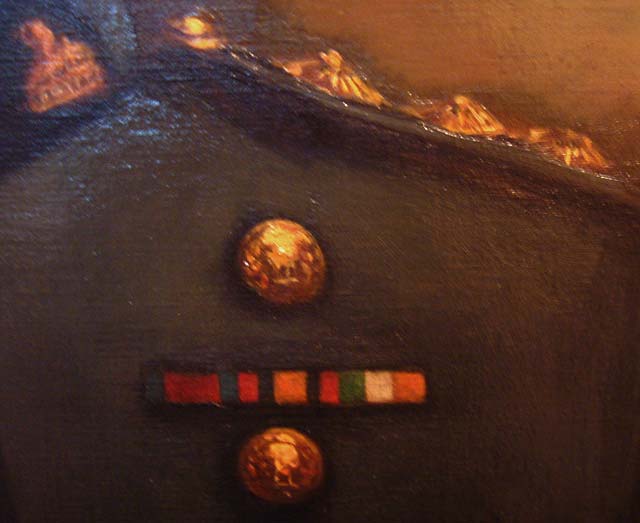 © Reproduced with acknowledgement to Mike Balcom-Vetillo, Earlville, Illinois, USA
© Reproduced with acknowledgement to Mike Balcom-Vetillo, Earlville, Illinois, USA
Portrait by Horsburgh
Thank you to Jeff Lock for allowing me to reproduce the images above taken from an oil painting by John Horsburgh Senior. This is the only painting that I have seen by Horsburgh with 'Senr.' in the signature, though I have seen many signed 'John Horsburgh, Edinburgh'.
Jeff sent me an interesting story about this painting. He wrote:
£10 Purchase
"In 1971, I was driving through the Windsor area with my first wife when we saw an oil painting in the window of an antique shop. It was a portrait of a soldier. He looked very proud and very military and it struck us as something we would like to own.
So, we bought it for £10 - a large sum back in the 1970s - and it hung in our house in Bromley for 25 years. In all that time, I never thought to try to discover who the soldier was. We always referred to the painting as 'The Man'.
When we got divorced in 1996, I took almost nothing in the way of possessions, but one thing I did retain was the portrait of 'The Man' and it now hangs in my current home in Eltham."
Rewsearch
"In 1997, I finally decided to do some research. I started by writing to the Imperial War Museum and they identified him as a captain with a number of campaign medals from the 2nd Boer War.
They also suggested a couple of possible regiments. I and I wrote to these and got some replies with several possible identities. But I couldn't make a definite selection. I also pursued the artist Horsburgh who was a member of the Scottish Academy of Art, but no luck there either to assist identification."
Identity
"Then I had the brilliant idea of taking the painting off the wall and looking at the back. There was a tattered old label with the faint word "Bromfield". Amazingly this tied up with a possible identification from one of the regiments. So, now, I knew who the old soldier was.
He was Captain Henry Hickman Bromfield DSO of the 2nd Battalion South Wales Borderers. He was born in Warwickshire on 29 January 1869 and attended Malvern College and Hertford College (Oxford). He married the eldest daughter of Sir Charles and Lady Philips of Picton Castle Haverfordwest in Pembrokeshire on 19 July 1906.
He served in the 2nd Boer War where he acquired the medals which you can see in the portrait including the Distinguished Service Order which was presented to him personally by King Edward on 2nd June 1902. He was appointed Chief Constable of Radnorshire in August 1909.
When the 1st World War broke out he re-enlisted and served with the 1st Battalion Welsh Guards. He was killed in action on 10 September 1916. His death is recorded on Thiepval Memorial in northern France, which commemorates one of the major allied attacks which formed part of the Battle of the Somme."
Thiepval Memorial
"About a month ago I thought I would sell the painting on eBay, but when I got down to reviewing what I knew, I decided it was better to retain a 'slice of history' I am off to France tomorrow (95th anniversary of the Somme) to find Major Bromfield`s name on the Thiepval Memorial."
Jeff Lock, Eltham, Greenwich, London, England: June 29, 2011 (2 emails)