Albany Series Postcard
Gilmerton
Looking NW up Drum Street
Gilmerton (zoom-in, right)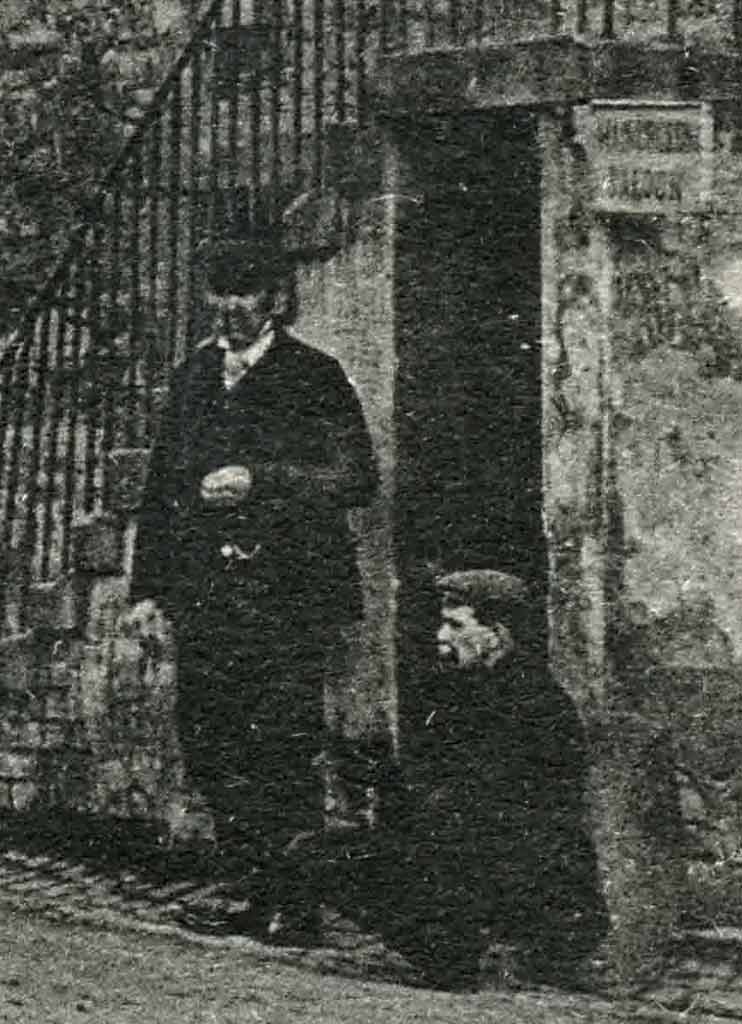 © Reproduced with acknowledgement to Eric Nisbet, Barnton, Edinburgh, formerly Gilmerton, Edinburgh
| | | |
| --- | --- | --- |
| | smaller picture | larger picture |
1.
Albany Series Postcard
Gilmerton
Postcard posted 1906
This Albany Series postcard was posted to an address in Northumberland on May 23, 1906.
Zoom-in
Zooming-in on the two men at the right-hand side of the picture, we see a sign beside them reading:
".....?..... Saloon"
2.
Gilmerton
Saloon
Thank you to John Hadden who wrote:
"It seemed to me that the sign on this zoomed-in image could be 'HAIRDRESSING SALOON'.
I'm pretty sure that the double-'S' is visible towards the right of the top word and the "H" at the other end. About the middle is a hollow looking symbol looks like a "D". The blobs either side of the "D" look very similar to each other which would suggest that they could be the same letter, eg "R".
This seems to leave enough room for the other letters in between. The end seems a bit short to include "ING", but the lip around the edge of the sign could be obscuring most of the "G".
Of course, I could be trying too hard...
John Hadden, Edinburgh: April 4, 2008
Post Office Directories
Thanks for your comments, John.
A search through the Edinburgh & Leith Trade Directories might possibly confirm your suggestions. I believe that the saloon was about on the site where the Royal Bank of Scotland branch was built some time in the early 1900s.
The address of the Royal Bank of Scotland Branch is 51 Drum Street.
Unfortunately the Edinburgh & Leith Post Office directories up to about 1920 don't appear to list the premises in Drum Street. From around 1920 onwards (i.e. the time when Gilmerton became part of Edinburgh) the premises in Drum Street are listed in the directories, but not numbered. So searching for an answer in he directories may be a bit of a challenge.
Peter Stubbs: April 4, 2008.
3.
Gilmerton
Saloon
Thank you to Archie Young who wrote:
"We called this the Mission Saloon. I've found out that the locals called it 'Teapot Close' so I wonder if this is where they had what they called the ' Soup Kitchen'.
Here's a photo of it, taken in 1926."
Archie Young, Moredun, Edinburgh: April 17, 2008
Teapot Close
Thank you to Archie Young who added:
"I have found out more on ' Teapot Close'. The story behind it is that, when the men had finished their meals and went off to work the women went down to the close and emptied their teapots down a drain that was there. Hence the name."
Archie Young, Moredun, Edinburgh: May 1, 2008