'Pixie Series' postcard by Durie Brown & Co
Scottish National Exhibition
1908
Scottish National Exhibition - Saughton Park - 1908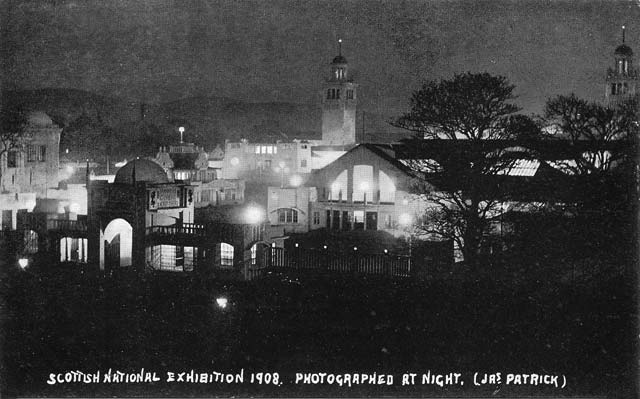 © To reproduce this picture, please contact peter.stubbs@edinphoto.org.uk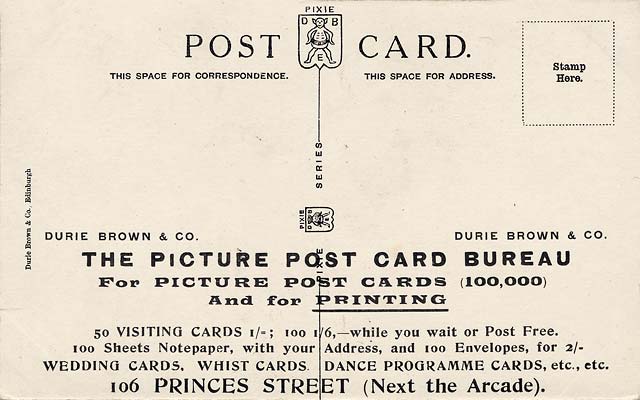 © To reproduce this picture, please contact peter.stubbs@edinphoto.org.uk
Scottish National Exhibition - 1908
Postcard
The caption on this postcard reads:
"Scottish National Exhibition 1908. Photographed at Night (Jas. Patrick)"
This postcard was published in Durie Brown's 'Pixie Series'. It's the only photograph that I have seen of the exhibition at night.
Back of the Postcard
I found the back of the postcard interesting. It gave Durie Brown's address at The Picture Post Card Bureau, Princes Street, together with their price list.
I also have other postcards published by the Picture Post Card Bureau, but with no mention of the Durie Brown's name.
Scottish National Exhibition
The Scottish National Exhibition 1908, was held in Saughton Park, Edinburgh. Please click on the thumbnail image below to read about it: