Post Cards - G D & D, London - Star Series
St Andrew Square
Postcard - Early 1900s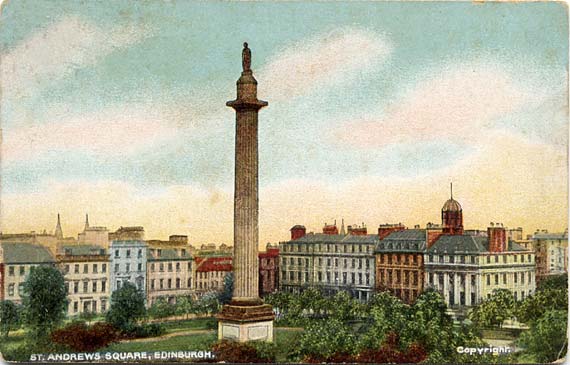 © For permission to reproduce, please contact peter.stubbs@edinphoto.org.uk
Engraving - 1840s
Looking approx NNE to St Andrew Square from the Scott Monument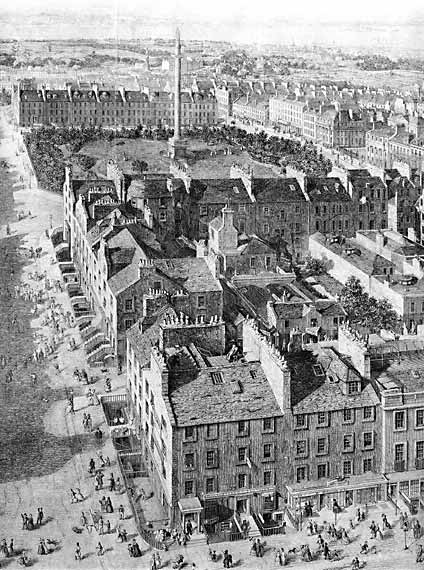 © For permission to reproduce, please contact peter.stubbs@edinphoto.org.uk [Source: Old & New Edin]
Post Cards - G D & D, London - Star Series
St Andrew Square
Postcard
The top picture above, a view of St Andrew Square, is one of the 'Star Series' of postcards produced by G D & D, London. The postcard above was posted from Edinburgh to Selkirk on 3 August 1906.
The pastel shades added to the buildings give an interesting image, which looks to me more like a scene from continental Europe than Edinburgh.
Questions
The monument to Melville in the centre of the square is immediately recognisable, but a little investigation is needed to determine which direction this view looks across the square and what the domed building in the background is.
Answer
Many thanks to John Hadden for answering the first question above within a few hours of the postcard being added to this web site today [27 June 04] !
Comparing the postcard with the Ebsworth engraving above, the view in the postcard appears to be looking across St Andrew Square from the south-west corner towards the north-east corner.
The building with the large chimney near the right-hand side of the postcard is 35 St Andrew Square, and the gap to the right of it is the front of the grounds of Dundas House at 36 St Andrew Square.