Postcard
Published by James J McCulloch & Co, Edinburgh
Granton Square
Granton Hotel on the east side of Granton Square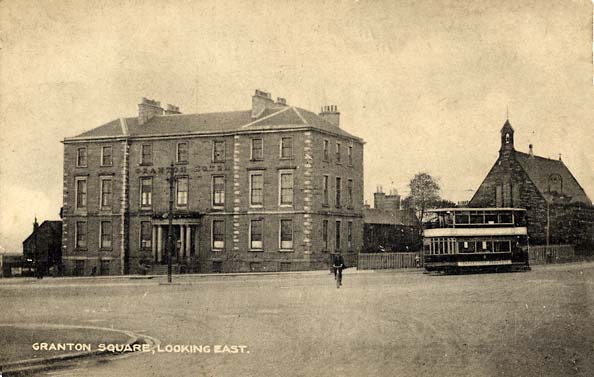 © Copyright: For permission to reproduce, please contact peter.stubbs@edinphoto.org.uk
Granton Square
Here is a quiet view of Granton Square, looking east towards Granton Road. The only traffic is a tramcar and a cyclist.
Granton Hotel, on the east side of the square is now HMS Claverhouse.
This postcard has not been sent through the post, but looks similar to others that were published around the 1910s.
The small church behind the tramcar is Granton Church at the foot of Granton Road. Here is another view of the church:
1909 or Later
The Tram Line
Thank you to David King for telling me that this photo must have been taken in 1909 or later. That's the year that the tram line opened heading up Granton Road from Granton Square.
David King, Trinity, Edinburgh,: April 7, 2008