St Leonard's Church
and
Nelson's Works
Dalkeith Road, Edinburgh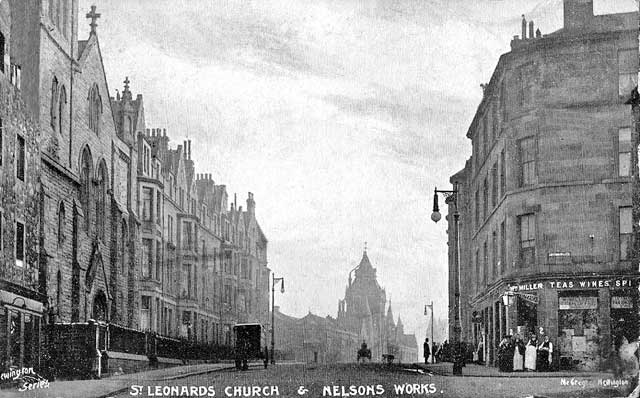 © Reproduced with acknowledgement to William Mearns, Church Manager, Mayfield Salisbury Parish Church, Edinburgh
St Leonard's Church and Nelson's Works
Postcard
Thank you to William Mearns, Church Manager, Mayfield Salisbury Parish Church, Edinburgh, for allowing me to reproduce this postcard of St Leonard's Church, at the junction of Dalkeith Road and Lutton Place.
Lutton Place is the road leading out of the picture to the right, above.
This postcard is published by McGregor of Newington in their 'Newington Series'. It has a divided back so must have been published in 1902 or later. It was sent through the post on December 6, 1904.
William wrote:
Church
"This photo is of St Leonard's Church of Scotland church. I believe it is now a Catholic Church. The original war memorial for St Leonard's in now in my Church, Mayfield Salisbury.
Nelsons Works is also visible in this image."
William Mearns, Mayfield Salisbury Parish Church, Edinburgh: August 11, 2009
Nelson's Printing Works
Nelson's printing works stood on the east side of Dalkeith Road immediately to the north of where the Royal Commonwealth Pool now stands, close to one of the entrances to Holyrood Park.
Nelson's works were demolished and offices for Scottish Widows Fund and Life Assurance Head Office was built on the site in 1972.