Postcard Published by
RRR - E
The back of a postcard of The Cottage Hospital, Kirkcaldy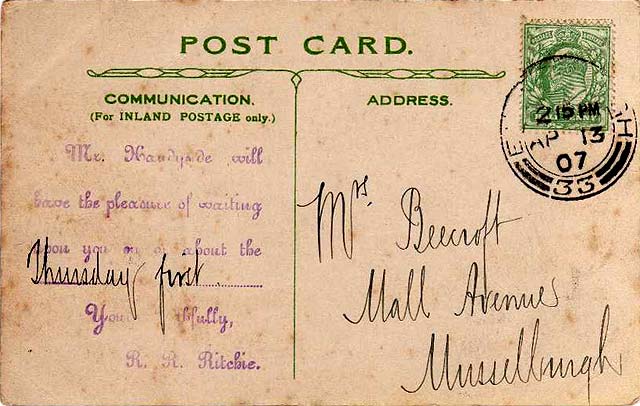 © Reproduced with acknowledgement to Donald Manson, Kirkcaldy, Fife, Scotland
Postcard by 'RRR-E'
Thank you to Donald Manson who sent me the postcard above in response to my question:
"Who was 'RRR-E'?"
Postcard
Donald wrote:
"A few days ago I bought a Postcard of The Cottage Hospital, Kirkcaldy. On the front, on the right-hand side are the initials RRR over E.
On the reverse there is a 'handstamp' message. The card is written on behalf of R.R. Ritchie and refers to a Mr Handyside. The card is Postmarked 'Edinburgh'.
Could the card, like others, have been privately made to order for the said Mr RR Ritchie?"
Donald added:
"The card refers to a Mr Handyside. Perhaps he was a Doctor or Consultant. This is conjecture on my part, but it would sure fit in with the picture of a hospital on the front. Or he may have been a salesman of some kind.
What are your thoughts?"
Donald Manson, Kirkcaldy, Fife, Scotland: June 10, 2010
RR Ritchie
I don't know who RR Ritchie might have been, but it seems likely, to me, that he would have been the same person as 'RRR-E'.
Peter Stubbs: June 10, 2010
Another Postcard by 'RRR-E'
Thank you to Donald Manson for sending me another postcard of Kirkcaldy by RRR-E. This one is of High Street, Kirkcaldy. It has the same message from Mr Handyside as the postcard above, but was posted almost two years after the card above, on December 8, 2008.
Postcard
Donald wrote:
"Further to my email to you on 10 June regarding the RRR-E cards, I've come across another similar handstamped card in my collection, kind of confirming our earlier thoughts that it may be Mr Ritchie's personal ordered cards, though why Kirkcaldy subjects beats me !"
Donald Manson, Kirkcaldy, Fife, Scotland: August 15, 2010