Alex Roberts
Postcard Portrait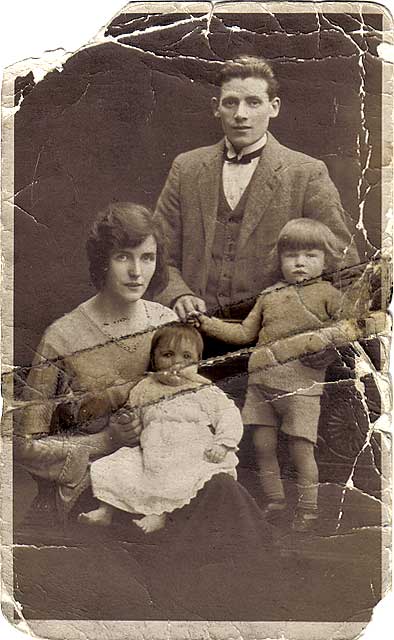 © Reproduced with acknowledgement to Lesley Conway
Melbourne, Victoria, Australia
Portrait Postcard
Thank you to Lesley Conway, now living in Melbourne, Victoria, Australia, for sending me the portrait above from the studio of Alex Roberts.
Lesley wrote:
The Moran Family
"This photo is of my grandparents, Peter and Molly Moran, and their children (at that time), Peter and Rose.
My auntie Rose (the baby in the photograph) was born on 10 October 1923 and as she looks a couple of months old, I would say that the photograph was probably taken in early 1924.
At a push, it could be December 1923. I'm wondering if it could have been taken around Christmas 1923, being a special time of the year, as my grandparents were quite poor, I can't imagine them having any spare money to have a portrait taken for no reason at all!
My uncle Peter, the other child, was born 17 September 1922 and he doesn't look much more than one but it is hard to tell!"
The Back of the Postcard
"The details of the photographer are on the back:
ALEC ROBERTS,
Photographer, Piershill Studio, Edinburgh.
Telephone Portobello (the rest has been ripped off).
On the back of the postcard, written in pencil is the number, 97517. Also written in pencil is 'Mrs Moran, 10 Freer Street, Fountainbridge. Copy.' This was of course my grandmothers name and address."
Lesley Conway, Melbourne, Victoria, Australia: May 4, 2007