View towards Junction Bridge over the
Water of Leith
at Leith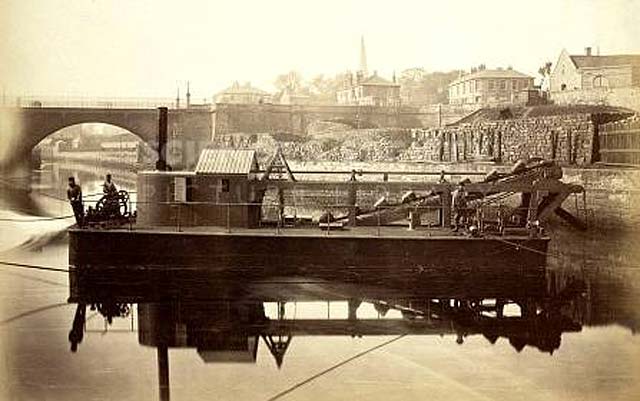 © Reproduced with acknowledgement to Walter Lyle Hume, Cowes, Isle of Wight.
View from Junction Bridge, Leith
Leith
Thank you to John Stewart for telling me about this photograph, and to Walter Lyle Hume for providing a copy of the photo, possibly taken from an old postcard.
This view looks upstream, to the NW towards the old Junction Bridge which took Great Junction Street over the Water of Leith and the railway. Junction Street Station is beyond the bridge, on the right-hand side of the photo.
There appears to be an old dredger in the foreground.
John Stewart writes:
"Yes, it certainly looks like a dredger with the conveyor of buckets rising up to the stern. Just wondering if each bucket scrapes the sea bed in turn."
Hawthorn's ship yard was on the left bank of the Water of Leith as we look at this photo, just out of the picture on the left. This ship yard has now gone, leaving just the State Cinema on the left bank of the river close to Junction Bridge.
Further Comments
Please email me if you know anything more about this photo, or if you can suggest when it might have been taken.
Thank you. - Peter Stubbs, July 27, 2009
Acknowledgements:
John Stewart , Edinburgh, Oct 26, 2009 + Walter Lyle Hume, Cowes, Isle of Wight, Oct 27, 2009
Recollections
1.
John Stevenson
Trinity, Edinburgh
Dredger
Thank you to John Stevenson for sending me more details about the boatyard.
John wrote:
"I'll check my notes and pass on what I have. She was, from memory, built by Hawthorns for the then Leith Dock Commission and was purely for harbour use - being a 'dumb barge' (no propulsion)."
John Stevenson, Trinity, Edinburgh: July 28, 2009