Around Edinburgh
King's Gate
Newbattle
Approaching Hardengreen Roundabout on the A7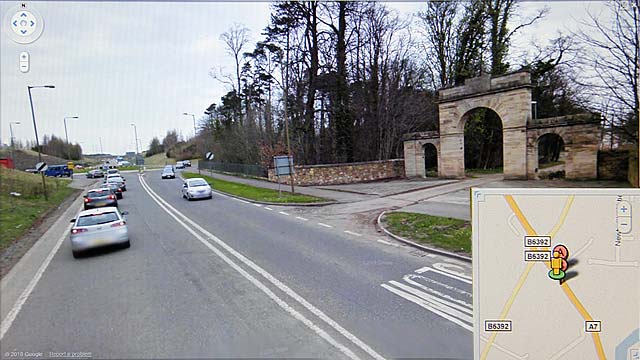 © Google. This photo has been taken from Google Street View
King's Gate, Newbattle
The Location
Above is a Google Street View, looking up the A7 to the north towards Edinburgh, on the approach to Hardengreen Roundabout. King's Gate, Newbattle is on the right.
Early Photograph
Please click on the thumbnail image below to see an early photograph by James Pike that was probably taken from the other side of this gate, looking to the south towards Newtongrange Viaduct:
Comment
Tommy Pearson
West Lothian, Scotland
Tommy Pearson wrote:
Inscription on the Gate
"There is a carved inscription, in large letters, on the King's Gate. It is on the side facing away from the road.
I wonder why."
Tommy Pearson, West Lothian, Scotland: August 30, 2010