St Leonard's District Photos
Photo 10
Dumbiedykes Road
See Answer below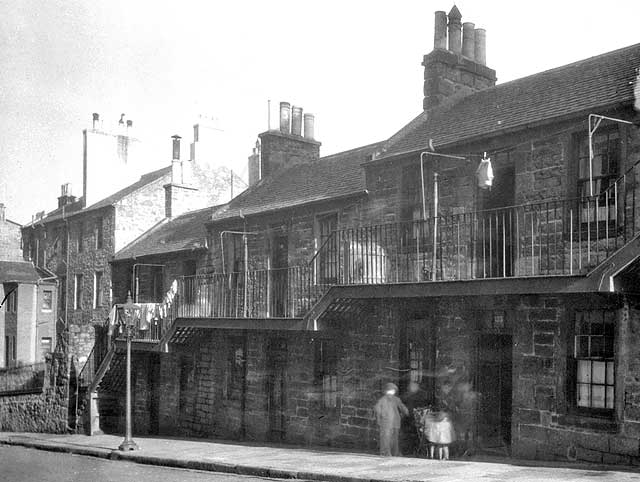 © Reproduced with acknowledgement to David Gordon, Old Town, Edinburgh
St Leonard's District - 1920s
Collection of Photos
The image above is taken from a collection of whole-plate negatives. The photos were probably taken around the 1920s.
If you recognise this street, please email me.
Thank you. Peter Stubbs: July 5, 2008
Answer
Thank you to Neil Lawrence, Fountainbridge, Edinburgh, who wrote:
Dumbiedykes Road
"Here is another one that you can cross off the list
The number above the door was the give-away here. There were only about 6 street in Edinburgh that went up and past number 133. Two were in the south side, Dumbiedykes Road and Causewayside – a quick look at the old maps and it turns out to be Dumbiedykes Road."
Neil Lawrence, Fountainbridge, Edinburgh: July 10, 2008
Neil also sent me a copy of an old large-scale map, showing that No 133, the house on the right in the photograph above, is on the east side of Dumbiedykes Road between Brown Street and Carnegie Street.
Also in this section of the road, a little further south, there was a pub at No 143.
1891 Map
Dumbiedykes Road can be found running down the Dumbiedykes map below, close to the right-hand side of the map.