Waverley Market
'This Scotland'
Exhibition
1959
'This Scotland' Exhibition
Opened by Sheriff Harald Leslie QC with MV Stevens, Secretary of the Edinburgh Chamber of Commerce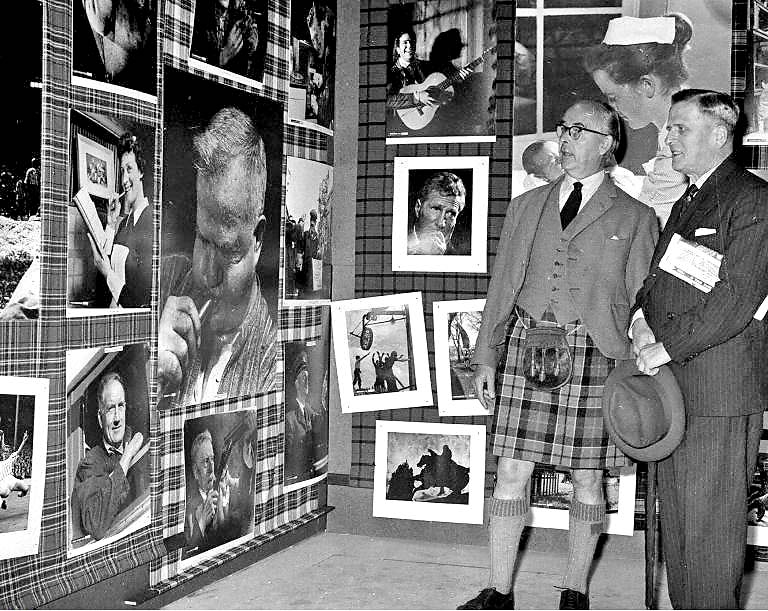 © Scotsman Publications Ltd. Click here for web site details. Licensed by Scran, Photo 99970233 Scran 000-000-060-434 Photo published: Aug 15, 195915
This Scotland'
Exhibition
Here are Sheriff Harald Leslie QC and MV Stevens, Secretary of the Edinburgh Chamber of Commerce, at the official opening of the 'This Scotland' Exhibition.
Please email me to let me know if you recognise some of the photos on the walls in the background.
Peter Stubbs, Edinburgh: December 15, 2011
Reply
1.
Bryan Gourlay
Biggar, Lanarkshire, Scotland
Thank you to Bryan Gourlay who replied:
Jimmie Macgregor?
"Could the chap playing the guitar at the top be a young Jimmie Macgregor?"
Brian Gourlay, Biggar, Lanarkshire, Scotland: December 15, 2011