Answer: Calton Cricket Ground: see 'Answer 2' below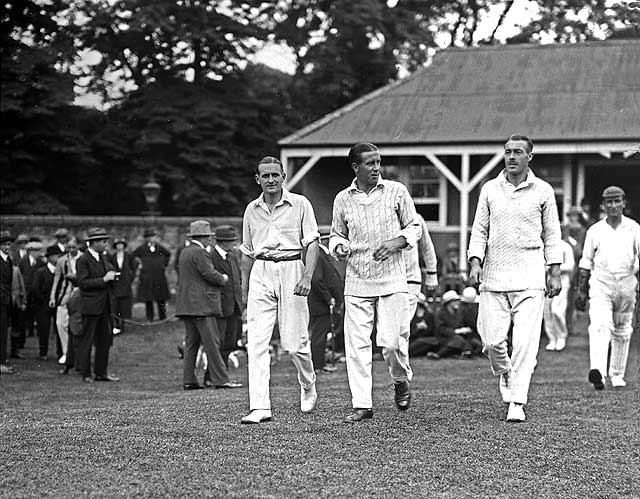 © Reproduced with acknowledgement to John Stirling, Currie, Edinburgh: November 6, 2009 Photographer not known
Cricket Team
Old Photo
Thank you to John Stirling for allowing me to reproduce this photo. The photo is taken from a collection of lantern slides that John rescued from being destroyed in 1974. The photographer is not known.
Some of the other slides from this series are known to have been taken between about 1910 and 1920.
Who? When? Where?
Do you know when or where the photo might have been taken?
Here is another photo, possibly taken on the same occasion, that zooms out to give a better view of the cricket ground and clubhouse.
Answers?
If you know the answer to either of these questions, please email me.
Thank you.
Peter Stubbs: December 1, 2009
Answer
1.
Bob Sinclair
Queensland, Australia
Thank you to Bob Sinclair who wrote:
Grange or Edinburgh Academy?
"This could be the Grange Cricket Club or Edinburgh Academy cricket club. The wall seems familiar, but you could check with the clubs at Stockbridge."
Bob Sinclair, Queensland, Australia: December 14, 2009
Answer
2.
Archie Young
Moredun, Edinburgh
Thank you to Archie Young who wrote:
Carlton
"This photo is of the Carlton Cricket Team at the Carlton Cricket Ground at Grange Loan Edinburgh, the Cricket Club was founded in 1863. Dr. W. G. Grace played there."
Archie Young, Moredun, Edinburgh: December 14, 2009
Answer
3.
Hugh Parker
Thank you to Hugh Parker for writing to tell me that he believes that the two photos below are by Yerbury, who took Carlton Cricket Team photos until modern times. There is no photographer's name on the lantern slides that I saw.
Hugh wrote:
Carlton XI v. Essex XI
"This photo was taken in 1924 at a match between Carlton XI (featuring EA MacDonald who played for Australia) and J W H T Douglas's Essex XI. It appears on page 163 of 'Play' ** with the caption 'Douglas's XI taking the field'.
Douglas is the man in the middle of the picture. He had an interesting sporting record * and a sad early death."
Hugh Parker: January 9, 2011
* This link that Hugh provided is to a Wikipedia page that lists some of the sporting achievements of John ('Johnny') William Henry Tyler Douglas.
- Boxing: Middleweight Olympic Champion, 1908
- Cricket: Played for England before and after World War I
Captained England 18 times.
- Football: Played once for the England amateur side.
Hugh added
Photo at the top of this Page
"Presumably the image at the top of this page comes from the same match.
Despite what looks like a healthy crowd to modern eyes, N L Stevenson wrote: "It was unfortunate that the Club's enterprise in arranging this fixture against the Essex XI (at full strength except for P A Perrin and Russell) was not too well supported by the public and a considerable financial loss was incurred"
Hugh Parker: January 9, 2011
** I asked Hugh Parker about 'Play'.
He replied:
Play
" 'Play' by N L Stevenson is a history of Carlton and Scottish cricket from 1863 to the 1940's. NL Stevenson played for Carlton for over 50 years and kept the club going through some hard times."
Hugh Parker: January 13, 2011