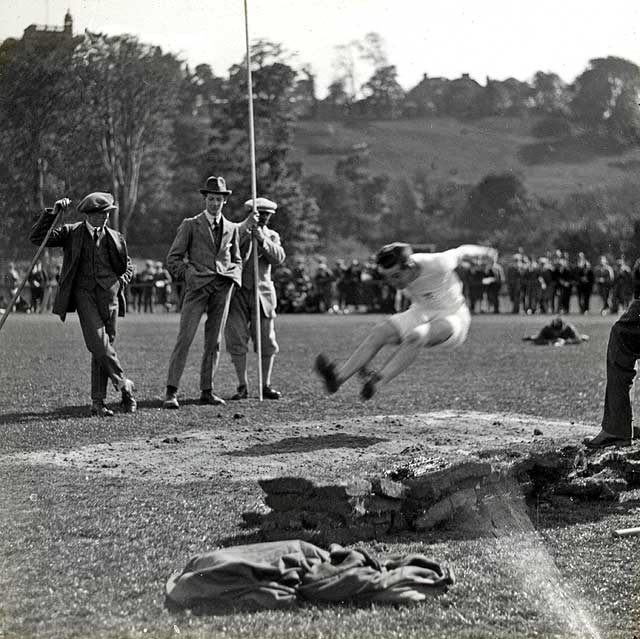 © Reproduced with acknowledgement to John Stirling, Currie, Edinburgh: November 6, 2009 Photographer not known
Long Jump
Old Photo
Thank you to John Stirling for allowing me to reproduce this photo. The photo is taken from a collection of lantern slides that John rescued from being destroyed in 1974. The photographer is not known.
Some of the other slides from this series are known to have been taken between about 1910 and 1920.
Who? When? Where?
Do you know recognise this location, or can you suggest when the photo might have been taken? Some of the other photos from this collection were taken at the Edinburgh University Playing Fields at Myreside, but I'm not sure about the hill in the background on this one.
I'll have a better look around the Myreside area next time I'm passing. UPDATE: No need for me to do that now. See Answer 1 below.
The three observers standing behind the long jump are well dressed. They may give a clue as to when the photo might have been taken. What is the man on the right holding? Is it a pole for the pole vault, or some sort of measure for the long jump, or something else?
Answers?
If you know the answer to any of these questions, please email me.
Thank you.
Peter Stubbs: December 1, 2009
Answer
1.
Graeme Kerr
Selkirk, Scottish Borders
Thank you to Graeme Kerr who wrote:
Edinburgh University Playing Fields, Myreside
"You are right regarding the long jump photo having been taken at Myreside.
The hill in the background is where Napier University is now, formerly Craighouse/Thomas Clouston Clinic."
Graeme Kerr, Selkirk, Scottish Borders, Scotland: December 3, 2009