Gogarburn House - Was it once a Hospital or possibly a Nursery for Children?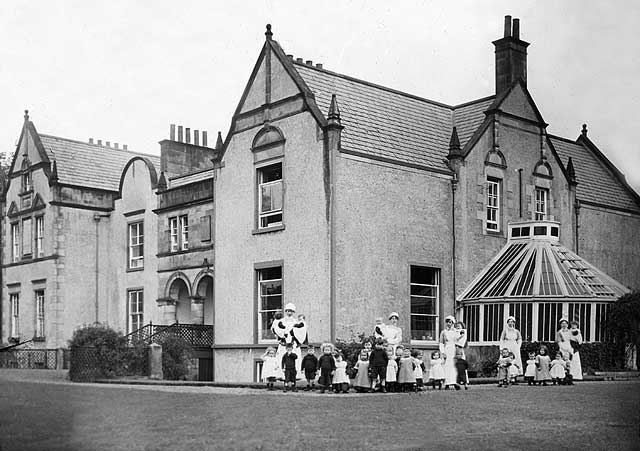 © Reproduced with acknowledgement to John Stirling, Currie, Edinburgh: November 6, 2009 Photographer not known
Answer
1.
Simon Capaldi
Sheriffhall, Midlothian
Thank you to Simon Capaldi who wrote:
Gogarburn House
"The caption above is given as 'Gogarburn House', but is that not the name for the now demolished hospital near the airport?"
Simon Capaldi, Sheriffhall, Midlothian
I think you are probably right, Simon.
Peter Stubbs: December, 19, 2009
Answer
2.
Peter Stubbs
Edinburgh
Yes Simon: Gogarburn House was the building that housed Gogarburn Hospital. It lay to the south of the Edinburgh-Glasgow Road, between Gogar Roundabout and the turn-off to Edinburgh Airport.
The hospital has closed, but Gogarburn House has not been demolished.
1.

Early history

1893

Gogarburn House built by James Jerdan, on the site of an earlier house.

pre-1924

Edinburgh District Board of Control bought the mansion house and estate of Gogarburn to establish a new hospital for the treatment of mentally handicapped patients, separate from the asylum system.

The house had previously belonged to Edinburgh Corporation and had been used as a home for convalescent children under school age * .

* It was presumably during this era that the photograph at the top of this page was taken

1924-25

Gogarburn Hospital opened with 24 women patients. The following year, the stable block was adapted to accommodate 15men.

1926-38

Expansion continued with a colony of buildings being created to act as a small village. The additions included four villas, two temporary blocks, two children's blocks, a school and a farm.

By the end of 1938, there were 540 patients.

1939-45

During the War Gogarburn became part of the emergency services scheme. Service and civilian patients were treated there.

from 1945

In 1945, Gogarburn returned to its original function.

Source: City of Edinburgh web site: Survey of Gardens and Designed Landscapes
2.

Recent Developments

May 1999

Gogar Hospital closed

Jun 2001

Gogar House and the surrounding land were sold to the Royal Bank of Scotland (RBS).

Feb 2002

RBS sought planning permission to develop the site their new RBS World Head Quarters.

Sep 2002

Planning permission granted

Jul 2005

RBS Global Head Quarters opened on the site.

Source: City of Edinburgh: Planning Consultations web site
3.
Gogarburn House Today
175 Glasgow Road
Gogarburn House has been retained and has been refurbished to become a Staff Club with bars and restaurant for RBS staff.
A new Leisure and Medical centre for RBS staff has now been built behind Gogarburn House.
Here is a link to a web page that has a recent photograph of Gogarburn House, looking almost identical to this photo, apart from the conservatory that has now been removed.
Please click on the last of the photos in the row of thumbnail images on this page to see it.
Source: Royal Bank of Scotland: Health & Leisure web site.
Answer
3.
David Appleman
Cumbernauld, Lanarkshire, Scotland
Thank you to David Appleman who wrote about taking some photos at Gogarburn Hospital, as part of a 3-year personal photographic project that he undertook, photographing hospitals around Scotland.
Here are some extracts from a note that David wrote about this project.
Gogarburn Hospital
"In 1999, I was fortunate to gain access to Gogarburn Hospital, only months after it closed. I spent over a year photographing this hospital.
I photographed Gogarburn House (which was not the main hospital) and have extensive interior images of many parts of the hospital, including:
- the two hospital blocks and many other outlying wards.
- the Occupational Therapy huts.
- the old children's school.
- a padded cell which I think was Ward 3. It had one-way safety glass and its radiator was on the ceiling. Light levels were controlled form an observation room"
David Appleman, Cumbernauld, Lanarkshire, Scotland: March 22, 2011
Answer
4.
Ian Thomson
Lake Maquarie, New South Wales, Australia
Thank you to Ian Thomson who wrote:
Football at Gogarburn
"I remember Gogarburn Hospital well from the 1940s and 1950s. It was just past the Maybury roundabout, on the left hand side, going out of Edinburgh on the Glasgow road.
Just prior to migrating to Australia in the late-1950s, I used to play football for Brightside Engineering. One pre-season game took us out to play the staff of the Gogarburn Hospital.
I can't remember the score, but I remember going through a lot of locked doors to the playing field. Brightside played in the Welfare League then."
Ian Thomson, Lake Maquarie, New South Wales, Australia: March 28, 2011
Answer
5.
Bryan Gourlay
Biggar, Lanarkshire, Scotland
Thank you to Bryan Gourlay who wrote:
Patient
"I also remember, very well, Gogarburn Hospital in the early- 1960s. I went there on a number of occasions to check out work that was being carried out on some of the buildings.
Each time, we were met by a delightful, teenage Downs Syndrome lad who would find us within minutes of our arrival. He would follow us around for a couple of hours or so, keen to see what we were doing – chatting and laughing all the time. We always looked forward to meeting him.
When I lived in Devon a few years ago, I got to know a few Downs Syndrome youngsters who were living with their families, or in special accommodation in the heart of the community, in mainstream education, playing a full part in village activities, etc. – unlike our young friend in Gogarburn 50 years ago."
Bryan Gourlay, Biggar, Lanarkshire, Scotland: March 29, 2011
Answer
6.
Jim Di Mambro
Biggar, Lanarkshire, Scotland
Thank you to Jim Di Mambro who wrote in response to Bryan Gourlay's comments in 5 above.
Jim wrote:
Patient
"I found it interesting to read Bryan Gourlay's comments about Gogarburn Hospital. I worked there as an apprentice Terrazzo layer on the new building work that was going on in the 1960s.
The re was a guy waiting for us every morning. His name was Dougie or 'Doogie'. He had his own 'tea drum' - an old jam tin wi' a wire handle.
After he helped us to mix the batch of Terrazzo, we would go to the kitchen to make a brew, then back to wir 'houf' and have breakfast. I always got my mother to make an extra sandwich for Dougie, but so did the other guys, so he wa well fed.
I wonder if he was the same guy as Bryan used to see."
Jim Di Mambro, South Africa: April 1, 2011
Answer
7.
Bryan Gourlay
Biggar, Lanarkshire, Scotland
Thank you to Bryan Gourlay (who wrote 5 above) for replying to 6 above.
Bryan wrote:
Patient
"Jim di Mambro's memory is obviously better than mine. The young chap who met us each time we went to Gogarburn was indeed 'Dougie'.
You could sometimes see him looking over the stone wall near the Glasgow road watching the world go by. He didn't seem to go hungry and was clearly not short of friends either .
I was a trainee surveyor at the time, so I was maybe involved in measuring up and signing off some of Jim's and his squad's handywork.
Bryan Gourlay, Biggar, Lanarkshire, Scotland: April 3, 2011