Goldbergs
Department Store
1987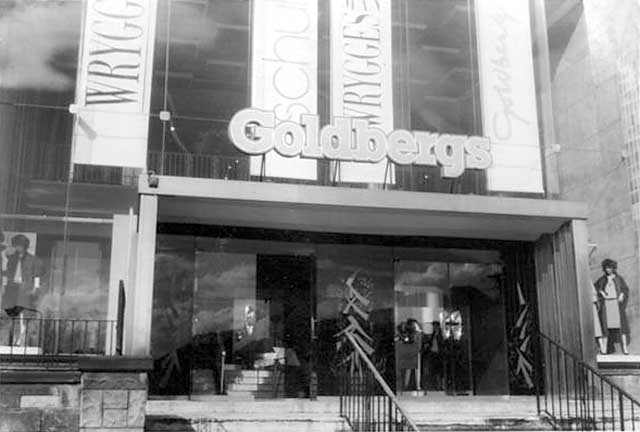 © Reproduced with acknowledgement to Craig Herbertson, Witten, Germany Photograph taken 1987
Goldbergs
Department Store
1960 to 1990
Goldbergs department store was ahead of its time when it opened at High Riggs, Tollcross, Edinburgh in 1960. It was a modern construction on five floors, with roof garden, nursery and menagerie.
The store, with its copper sculptures at either side of the entrance at the top of a flight of stairs, was originally closed on Saturdays due to the owner's Jewish faith.
It was intended to be the showpiece in a new road system for Tollcross, but the new roads were never built.
Competition from elsewhere in Edinburgh, particularly the new St James Centre at the East End of Princes Street in the 1970s, made trading conditions difficult. Goldbergs finally closed in 1990.
New offices for the Bank of Scotland have now been built on the site.
'Edinburgh Shops, Past and Present' [Malcolm Cant] AND Edinburgh Evening News, October 14, 2005 [Grant Scott]
Recollections
1.
Craig Herbertson
Witten, German
Thank you to Craig Herbertson, Witten, Germany, for supplying the photograph above, and for his recollections of Goldbergs.
Craig wrote:
Escalators
"I remember being taken by mother up the escalator at Goldbergs - the only escalator in the world as far as I knew.
Rooftop
There was an exotic rooftop where you could have a coffee. My mum would sit with my aunt and chat. I sensed, for her, this was high living on a par with being in a Bond movie. That could well have been 1969."
Craig Herbertson, Witten, Germany: April 28, 2006
Recollections
2.
Dorothy Jeremy
Suffolk, England
Thank you to Dorothy Jeremy, now Dorothy Land, for sending me her recollections of Goldberg's.
Dorothy wrote:
1961
"My grandmother, Dorothy Aspey, took me to Goldbergs store just after it opened, possibly in 1961. I remember two things:
- a magical display of leather gloves on a 'tree', the gloves arranged to look like leaves. How surreal and avant garde was THAT!
- I think the doors were automatic? There was a family story, going the rounds, that my Uncle Tommy rushed at the doors to open them, they opened automatically and he fell through. It sounds unlikely, but he WAS accident prone to an alarming degree!
It was indeed a glamorous, adventurous place to shop."
Dorothy Land, (née Jeremy), Suffolk, England: May 31, 2007
Recollections
3.
Lesley Maasdorp, née Gillies
England
Thank you to Lesley Maasdorp for adding her memories of Goldbergs to the EdinPhoto Guest Book.
Lesley lived in Balgreen, Edinburgh. She emigrated to South Africa in the 1970s and is now living in England.
Lesley wrote:
1960s
"I have such fond memories of Mum taking me Christmas Shopping, and letting me ride on the merry-go-round at Goldbergs - and the entrance at Christmas with all the robot Disney characters.
Oh to be a child again. Thank you so much, not only for that memory, but all the others that came flooding back, Newhaven, Musselburgh, Portobello etc."
Lesley Maasdorp, née Gillies, England: October 16, 2007
Recollections
4.
Fiona Palmer (née Jack)
Brighton, Sussex, England
Thank you to Fiona Palmer who wrote:
Macaw
"I was born in Edinburgh in 1960 and regularly went to Goldbergs at Tollcross as we lived at Viewforth.
I remember there was a blue and gold macaw parrot in the roof garden which was the highlight of our visits!"
Fiona Palmer (née Jack), Brighton, Sussex, England: November 19, 2011
Recollections
5.
Nicola Hancock
Haltwhistle, Northumberland, England
Thank you to Nicola Hancock who wrote:
Nana
"It was great seeing this photo of Goldberg's
My nana worked in the store for many years and I used to love going in when we picked her up from work. It was like a fantasy land for a child.
I loved getting a Fondant Fancy in the restaurant on the top floor and then going out on to the roof and seeing the birds and fish.
My nana is now 91 and we still talk about the days when she worked at Goldberg's. It would be great to see more photos"
Nicola Hancock, Haltwhistle, Northumberland, England: February 18, 2012 (2 emails)
Recollections
6.
Joy Mikulandra (née Wyatt)
Australia
Thank you to Joy Mikulandra who wrote:
Goldbergs with Mum
"I loved seeing that photo of Goldbergs Dept store. What a wonderful place it was!
.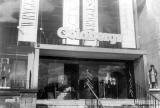 ©
I lived in Hailsland, Wester Hailes, from 1971 to 1974, from age 6 to 9. Mum, Agnes Wyatt (née Agnes Forbes McKenzie) was from Leith. She married a Kiwi. She loved to take us into town for special occasions like Christmas."
My Coat
"I remember, I had a photo, now lost, of my sister Fiona and me, all dressed up in our winter coats. Mine was a maroon maxi with a fur trim on the wrist and hemline. I think there may have been a hood as well. Boy, I loved that coat."
Christmas Window Displays
"On the photo, we were standing in front of the Christmas window displays. I loved gazing in at them, as they were automated."
Joy Mikulandra (née Wyatt): February 5+17, 2013
Recollections
7.
Evelyn Macrae (née Wright)
Thank you to Evelyn Macrae (née Wright) who wrote:
Display Team
"I worked at Goldberg's Department Store in the 1970s as part of the display team. There were about twelve of us. There were a lot of floors to cover and it was an exciting place to work.
My floor was Ladies' Fashion, which included the 'She She Boutique'. I loved creating displays to the sound of Deep Purple in the background.
We were very fit, either up a pair of ladders or zooming between floors via the beloved escalators. The staff were great and let us try on hats or wigs when we skived."
Birds
"I remember a white cockatoo called Joey and the exotic parrot on the 5th floor."
Memories
"I have lots of happy memories of Goldberg's."
Evelyn Macrae: May 24, 2013
Recollections
8.
Margaret Smythe
Edinburgh
Thank you to Margaret Smythe who wrote:
"It was great to read the recollections of Goldberg's."
Clerk of Works
"My dad was the Clerk of Works for the Goldberg stores. He loved to reminisce about how the Edinburgh store was built with a tiny budget. 'Modern health and safety rules would have scuppered it', he would say with a big grin
Christmas Party
"One of my favourite memories is of a staff Christmas party one year with a gorgeous dolls' house with electric lights and an elegant garden with a fountain.
Billy the Parrot
"Another favourite memory is, of course, of Billy the blue and yellow parrot who lived in the roof garden. Dad told me that when the store closed one of the tradesmen who had built his heated cage took Billy home with him. I was glad to hear that.
Dad's Car
"Much later in his career, when he had a far better job, my Dad bought an Alfa Romeo because he had so admired Mark Goldberg's all those years earlier!"
Margaret Smythe, Edinburgh: October 22, 2013
Recollections
9.
Vanda Campbell
Edinburgh
Vanda Campbell wrote:
Working at Goldberg's
1963-1982
"I read with interest the recollections of Goldberg's above.
My husband, David Campbell, was a very proud Leither. He worked at Goldberg's from being a young lad of 16 in 1963 until, I think, around 1982.
Unfortunately, after being a very fit and healthy man, he died very suddenly in March this year of mesothelioma.
I 'd like to contact anybody who worked at the store in the 1960s or 1970s.
Valda Campbell, Edinburgh: August 7 + 9, 2014
Reply to Valda?
If you'd like to send a reply to Valda, please email me to let me know, then I'll pass on her email address to you.
Thank you
Peter Stubbs, Edinburgh: August 9, 2014
Recollections
10.
Kate Lamb (née Kathleen Wright)
St Catharine's, Ontario, Canada
Thank you to Kate Lamb who wrote, after reading this page:
Photos
"It was wonderful to see the photos of Goldberg's. It certainly was a magical place. I've never seen anything like it since. The photos brought back wonderful memories."
High Riggs
"I was born in the stair which was 57 High Riggs, right at the bottom left of the stairs leading up to Goldbergs, so High Riggs was my playground for many years."
Granny Wright's Store
"My Grandmother had a little store at the bottom of the street. It was called Granny Wright's.
She sold coal and briquettes by the pail-full, also some books and magazines, but it was really a gathering place for all her friends. They would sit round the fire chatting and drinking tea."
Kate Lamb (née Kathleen Wright), St Catharine's, Ontario, Canada: February 26, 2014
Reply
11.
Sue Sargent (née Webster)
Cornwall, England
Thank you to Sue Sargent who wrote:
Working at Goldberg's
"I was fascinated to read the recollections of Goldberg's above. It's lovely to see the old picture at the top of this page. I can remember walking through those doors.
I began working in the store as a 15-year-old, straight from school, I think in 1962. I suppose I was employed in the Personnel Department, as a Junior, and recall that I went all over the store delivering the internal post.
My boss was Miss MacFarlane. I think, we never called our bosses by their first names in those days. I recall that she was very kind and helpful and I thought she was very sophisticated and much older than me, although I suspect she was only in her twenties.
I was then called Susan Webster, and my best friend was Carol Simpson. She worked, I believe, in the jewellery department. I went out, and eventually got engaged to Carol's brother, Tommy, although we broke it off before any wedding. It was the most exciting department store, very glossy and ahead of its time."
Leaving Edinburgh
"I have lived in Cornwall for over 45 years now but have recently made a couple of trips back to Edinburgh where I have rekindled my love for the city, Scotland and all things Scottish."
Sue Sargent (née Webster), Cornwall, England: 30 March 2016