Greyfriars' Church
Departing from
Greyfriars' Bobby's Gravestone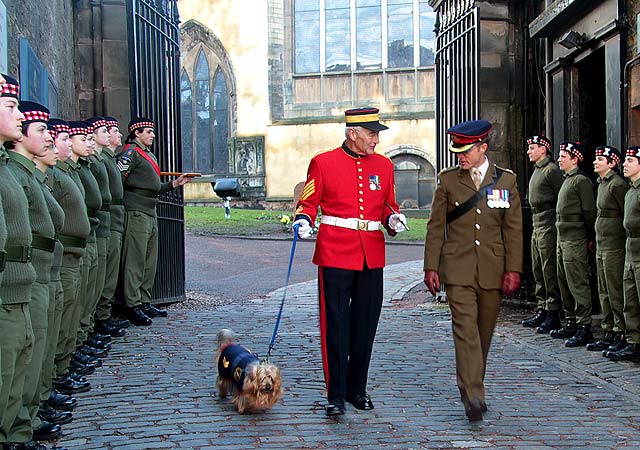 © Copyright: Peter Stubbs Photograph taken January 14, 2011
Greyfriars
Leaving the Graveyard
Here, Colour Sergeant Scott is leading the Yorkshire terrier, Blue (representing Skye terrier, Greyfriars' Bobby) down the lane from the churchyard to Candlemaker Row. He is accompanied by Lieutenant Colonel Huthwaite, commanding officer of 105th Regiment RA (volunteers).
They pause for a moment on reaching the exit to the graveyard at the top of Candlemaker Row
Ceremony
This photo was taken on January 14, 2011, when a ceremony was arranged by the One o' Clock Gun & Time Ball Association to lay a wreath at Greyfriars' Bobby's gravestone in front of Greyfriars' Church.
Greyfriars' Bobby Story
Greyfriars' Bobby was a Skye terrier that sat at his master's grave daily for fourteen years, from his master's death in 1858. He used to leave the grave only for food, recognising the one o'clock gun his signal to go for his lunch.
The one o' clock gun marks its 150th anniversary in 2011. It has been fired from Edinburgh Castle to indicate the time to shipping in the Firth of Forth and others. The gun is fired daily, except on Sundays, Good Friday and Christmas Day.
Greyfriars' Bobby Ceremony - More Photos
Please click here to see more photos of this Greyfriars' Bobby Ceremony
Reply 1
1.
George T Smith
Nanaimo, Vancouver Island, British Columbia, Canada
On reading the first paragraph on this page, George T Smith wrote:
105th Regiment
"I was curious about the RA Regiment, so I did a quick Google search on both the 105 Regt and its Colonel. It appears that the 105 regiment does salutes at three castles.
Their Colonel aroused my curiosity because he wears parachute regiment wings so I thought he would be a member of F Sphinx Battery Royal Horse Artillery which is an airborne artillery regiment (currently in Afghanistan) but he wears the RA regimental badge.
It seems they use their light guns for saluting purposes. They look big enough to be 105 mm guns but I am out of touch with present day armament."
George T Smith, Nanaimo, Vancouver Island, British Columbia, Canada: February 16, 2011