John Knox House
and
Moubray House
and other buildings in the Royal Mile, Edinburgh
When might this photo have been taken?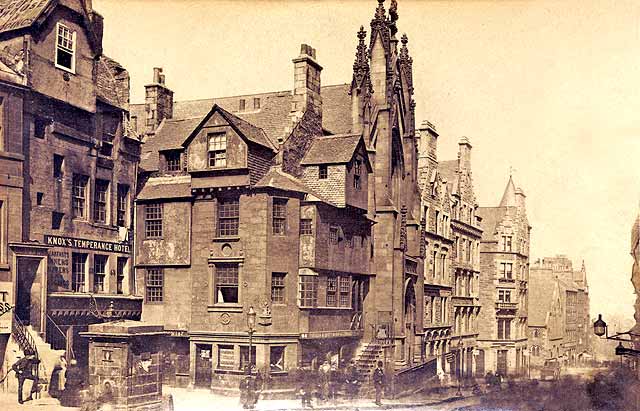 © Reproduced with acknowledgement to Tom Yanul, Oak Lawn, Illinois, USA
John Knox House and Moubray House
Royal Mile, Edinburgh
Thanks to Tom Yanul for allowing me to reproduce this photograph of:
- John Knox House (the house in the centre of this photo that juts out into the Royal Mile)
and
- Moubray House (the house immediately to the left of John Knox House).
Question
Date of the Photo?
I believe this photo may date from the mid- to late-C19. The movement captured in the figures suggests that this was a fairly long time-exposure.
The wording on the roof of Moubray House, and the wording on the frontage of the house ('Knox Temperance Hotel') may be helpful in dating the photo.
If you can suggest a date, please email me.
Thank you. - Peter Stubbs: April 7, 2008.
Reply
1.
Alfred Grandl
Germany
Thank you to Dr Alfred Grandl, Germany who wrote:
After 1858
"The photo must have been shot after 1858 surely, since an old travel report of those days says, that in summer 1858 there was still a puppet at the corner of the Knox House featuring the preacher himself.
Some of the engravings of John Knox House on the EdinPhoto web site show this puppet."
Perhaps 1880s or later
"On the photo below, you can see a later relief figure, in rather poor condition. So I think this photo would have been shot at least 20 or 30 years after 1858."
Dr Alfred Grandl, Germany: April 15, 2008
Reply
2.
Jay Ell
Thank you to Jay Ell for telling me about other buildings in the Royal Mile, near Jay Knox House. They are the tenements at Paisley Close that collapsed in 1861.
Jay is a descendant of the Bruce family, mentioned in the death column for this collapse. Jay tells me that his great grandfather and his brother escaped the tragedy.
Jay wrote
Paisley Close
"Paisley Close, at 99-103 High Street, lies on the same side of the road as John Knox House, but is a little further up the Royal Mile. The 250-year-old houses at Paisley Close collapsed on November 24, 1861.
Thirty-five of the occupants died, but as the debris was being cleared away a young lad was heard to shout from within the collapsed building: 'Heave awa' lads, I'm no' deid yet'.
The memorial inscription above Paisley Close, which was built on place of the collapsed houses, has a more anglicised, middle-class interpretation of what was said: 'Heave awa' chaps, I'm no dead yet'.
This tragedy (and the overcrowding which was prevalent at the time) resulted in a Medical Officer of Health being appointed in Edinburgh for the first time."
Jay Ell: January 16 +23. 2011
Reply
3.
Siobhan Wildman
Overton, Hampshire, England
Thank you to Siobhan Wildman who wrote:
Louise Rayner
Paintings of John Knox House
"I came across your photo above, as I had been looking at three paintings of John Knox' House between around 1861 and 1877 (if I've understood it correctly) by Louise Rayner.
This Dudley Mall web site gives details of the dates of these three paintings. It also states that house No.35 was demolished to make way for the church, which is in your picture.
The Dudley Mall web site also give details about the Temperance House. I don't know if this website would help you in finding the date of your interesting photograph. I hope it helps.
Siobhan Wildman, Overton, Hampshire, England: 22 January, 2016
Thank You
Thank you, Siobhan, for sending me the link to the Dudley Mall web site. that site has some interesting comments about some of the buildings in Edinburgh Old Town, not just John Knox House.
Peter Stubbs, Edinburgh: 22 January 2016