20th Century
Andy Wanstall, who provided the postcard above, writes:
"The grand house and Wauchope estate was purchased in 1944 by Edinburgh Corporation for the sum of around £8.000."
Unfortunately, the house was set on fire in the late 1940's, then stood in a ruined state until it was demolished in the 1960s.
Andy writes:
"A large sprawling housing estate now occupies the site. The Niddrie Marischal House was situated approximately three hundred metres west of the Jack Kane Centre, Niddrie, Edinburgh
.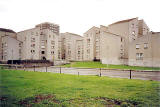 ©
The old house was always affectionately known as "Wauchope House."