Adam Smith
Statue
Beside the Mercat Cross, High Street, Edinburgh
Installation of the Adam Smith Statue beside the Mercat Cross
June 30, 2008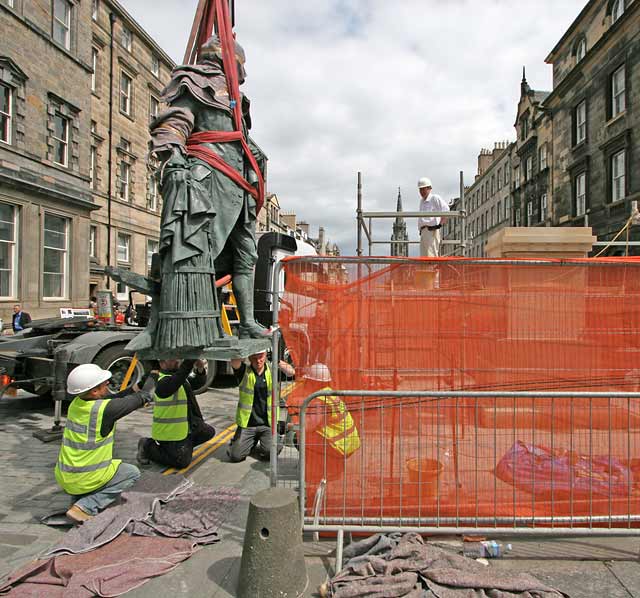 © peter.stubbs@edinphoto.org.uk Photo taken June 30, 2008
Adam Smith Statue
Adam Smith
This statue of Adam Smith, was placed on its plinth, beside the Mercat Cross, to the east of St Giles Church in Edinburgh's Royal Mile, on June 30, 2008.
Adam Smith lived in Edinburgh during the Scottish Enlightenment and is buried in Edinburgh. He was known as "the father of economics".
Statue
Here we see the workers attaching the fittings to the base of the statue so that it can be secured to its plinth. The statue, which will be 20 ft high on its plinth, is by Paisley-based sculptor, Sandy Stoddart.
Unveiling
This statue of Adam Smith is to be unveiled in a ceremony at noon on Friday July 4, 2008, by Nobel Prize-winning economist, Vernon Smith.
The View
This view looks down the Royal Mile towards the Tron Kirk at the junction of High Street and South Bridge. The steeple of Tron Kirk can be seen beside the workman dressed in white standing on the plinth for the Adam Smith statue.