Edinburgh
Sparta
Amateur Boxing Club
Sparta Amateur Boxing Club c.1949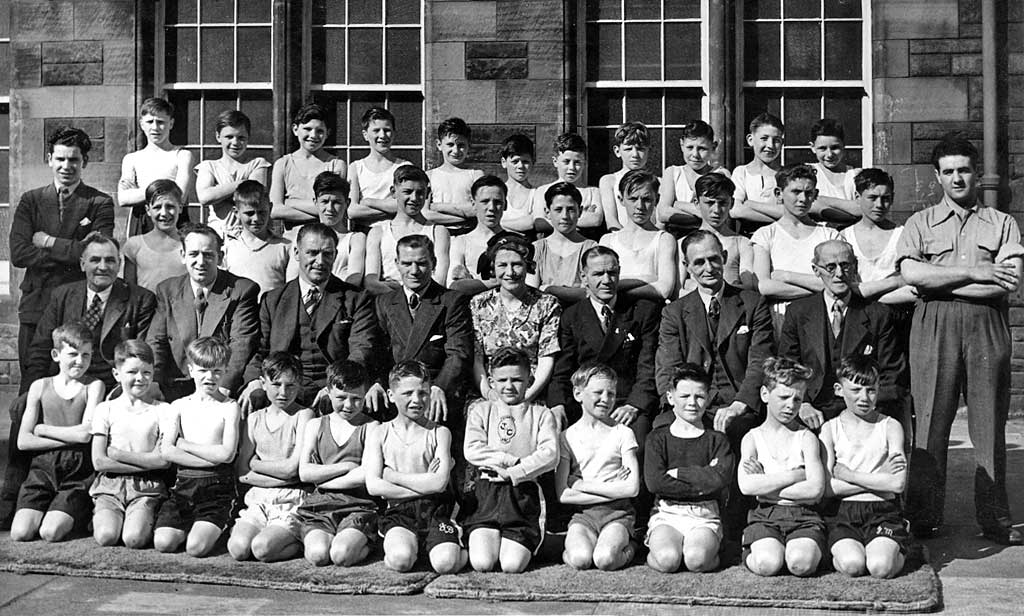 © Reproduced with acknowledgement to John Houston, Dayton, Ohio, USA
Recollections
1.
John Houston
Dayton, Ohio, USA
The Club
Thank you to John Houston, Dayton, Ohio, USA who provided the photograph above and wrote:
"By the time this photograph was taken, around 1949, the Club membership had grown, and there were junior and senior groups.
This is the junior (under 16) group. Again, the photograph was taken at Broughton school.
FRONT ROW

My brother Alan Houston is 4th from the left

2nd ROW
from front

The committee members and trainers on the second row. Reading from the left are:

1st: Janitor at Broughton primary school;
I can't remember his name,

2nd: I can't remember his name;

3rd: Mr. Farquharson (of McFarquhar?) a farmer in Kelso;

4th: Willie Shaw, co-founder and trainer;

5th: Mrs. Farquharson (or McFarquhar?) President;

6th: George Shaw, co-founder and trainer;

7th: John Houston, my father;

8th: I can't remember his name.

3rd ROW:
from front

I am 5th from the right.
John Houston: Dayton, Ohio, USA, May 5, 2006
The Photographer
John Houston writes:
"There is no photographer's stamp, or marks of any nature on the back of this photograph that I e-mailed to you. I have other photographs, of myself and with my brother Alan in our Sparta "strips" taken on the same day, and they do not have any stamps or markings on them either.
I seem to recall that they were taken by Mr. Henderson who is 2nd from the left in row 2. As Mr. Henderson is in this photographs and the photograph taken around 1947, his assistant must have taken these shots.
The camera used was a plate type, on a tripod, with a large black cloth that the photographer went under to focus, etc.
I don't think that Mr. Henderson had a photography business. He was a professional photographer, and I think he worked as such with the Edinburgh Dispatch, or the Evening News. Mr. Henderson also had a son at Sparta who will be in the photograph, but I can't remember what he looked like."
John Houston: Dayton, Ohio, USA, May 22, 2006
Mr Henderson
If you know how to contact the photographer, Mr Henderson, or his family please e-mail me so that I can discuss the above photograph with him. Thank you.
Peter Stubbs, May 2006
Update
I'm pleased to say that I've now received an email from Kerr Henderson, the grandson of the photographer, Ernie Henderson. See Recollections 4 below.
Peter Stubbs, April 2, 2012
Recollections
2.
Dave McKinlay
New Zealand
Thank you to Dave McKinlay for providing names of some of the people in this photograph, taken in 1949. I have included these names in the table below.
Dave also added:
Trainers
"The big guy with the military shirt on the right of the second-back row is Danny Iannarelli. ***
He was of Italian parents and had an Ice Cream Café opposite Meadowbank in the late-1950s / early-1960s. ***
The second row in this photo were the Mafia (Committee)."
Trainers
"George and Willie Shaw were brothers. Both trained us and were very, very good boxers themselves. They were well known around the boxing circles in Edinburgh and further afield.
In the late 1950s, I was in Cyprus with the Black Watch. When I came home I looked George up, and here he was still training kids.
He had broken away from the Sparta and set up Leith Persevere Boxing club. I had a couple of seasons with him as a senior, but it was too tough so threw in the towel."
Dave McKinley, New Zealand: August 15, 2009
*** and *** - See also Recollections 3 below.
Recollections
3.
Daniele Iannarelli
Edinburgh
Referring to Dave McKinlay's comments in Recollections 2 above, Dani Iannarelli sent me some details about his father.
Dani wrote:
'The Big Guy'
"The 'big guy' that Dave refers to was my father, Danny Iannarelli. Sadly, he passed over on September 4, 1992, four days before his 65th birthday, due to cancer.
Daniel passed me a copy of an obituary to his father published in Boxing News, from which I have taken the following extracts:
Obituary
Danny Iannarelli:
- had parents who owned a café in Leith.
- was Sparta ABC's Treasurer.
- was 1952 British Army (Egypt) Heavyweight Champion.
- was 1960 Eastern District Heavyweight Champion.
- joined Leith Persevere ABC.
- boxed at light heavyweight and heavyweight.
- was a 'slam-bang slugger' rather than a stylist.
- became an inspirational figure at the Sparta ABC gym.
Boxing News, Page 27: September 25, 1992
Thank you to Daniele Iannarelli for passing me a copy of his father's obituary from which the extracts above have been taken.
Michael's Café
"Michael's Café, Old Tolbooth Wynd, Leith, belonged to my paternal grandparents, Michele (Michael) and Luisa. They were well known and respected with many friends in the Leith area of Edinburgh.
Left to right in this photo are:
- Danny (my father, the boxer)
- Luisa (my grandmother)
- Michele (my grandfather)"
Leith Links
"Here is a photo of my grandfather, Michele selling ice cream from a pony and cart on Leith Links. He was the first to do so.
I think this photo would have been taken in the 1920s. My Aunt Nancy is the little girl in the photo."
Daniele Iannarelli, Edinburgh: September 27, 2010
Recollections 4
4.
Kerr Henderson
Thank you to Kerr Henderson for replying to John Houston's comments in 1 above.
Kerr wrote:
My Grandad - The Photographer
"John Houston commented on the photographer, who was in fact my grandfather, Ernie Henderson.
Ernie was indeed a photographer, but not in journalism; he worked for Francis Caird Inglis. I'm not sure exactly when this would have been, although his marriage certificate of 1934 states his profession as photographer and some old Edinburgh landscape photos that my brother has tie in with that time.
Ernie died in 1968, at which point he was in the Civil Service, so I'm not sure when he left his photography career behind!"
My Dad
"My father, Colin Henderson, is also in the photo (4th row from front, 8th from left) as is his older brother Len (4th row from front, 3rd from left)
I'm not sure when my dad stopped his boxing. We think it was when he was in his teens. He also joined the Civil Service where he spent his entire working life. He died in 1996."
Ken Buchanan
"I bumped into Ken Buchanan last year. He remembered Ernie fondly; I think they travelled quite a bit in Europe to various boxing championships at which Ernie was referee."
Kerr Henderson: March 31 + April 2, 2012
Recollections 4
5.
John Carson
Thank you to John Carson who wrote:
Photo
c.1949
"I am 2nd from the right in the back row of this photo."
John Carson: February 15, 2013
John also sent a message for Ian Foster, Perth, Western Australia, who provided this 1947 photo of Sparta Boxing Club members for the EdinPhoto web site in 2005.
c.1947
John wrote
Message for Ian Foster
"Ian:
I lived No.3 Fort Place (top flat). You were on 1st floor. Your brother went to Sparta at the same time as I did. Can you remember me? I'd be pleased to here from you - we could reminisce."
John Carson: February 15, 2013
Sparta Amateur Boxing Club - 1949

From
left

1st Row
(front)

2nd Row

3rd Row

4th Row
(back)

1
Frank Woodhouse
2
Mr Cranston
3

Mr. Farquharson

Mr Henderson

Len Henderson
4
Alan Houston
Willie Shaw
5
George Shaw
Mrs. Farquharson
David McKinlay
6
George Shaw
Johnny Houston
7
Jimmy Cairns
John Houston

James McKinlay

8
Billy McKinlay
Colin Henderson
9
10
Jimmy Clayson
John Carson
11
Jimmy Malcolm
12
Danny Iannarelli

Key
showing colour coding in the table above

Thank you to the following for emailing me and supplying some of the names of the people in this photo.

- John Houston, Dayton, Ohio, USA

- Dave McKinlay, New Zealand

- Margaret Ritchie

- Daniele Iannarelli, Edinburgh

- Kerr Henderson

- John Carson