Edinburgh Aero Club
Established 1928
Edinburgh Aero Club - Turnhouse Aerodrome - Photo 2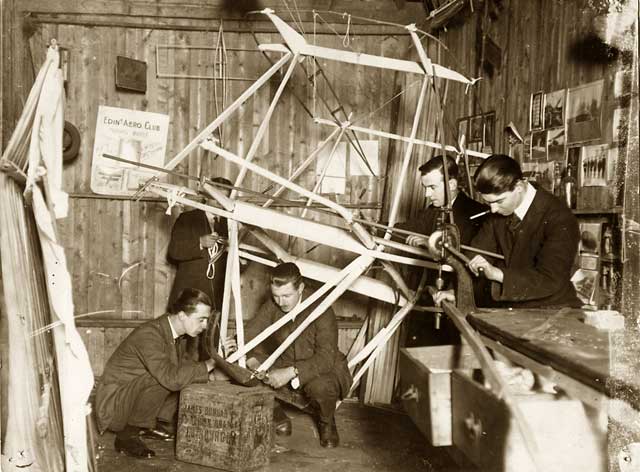 © Reproduced with acknowledgement to June Scott, Bonaly, Edinburgh
Edinburgh Aero Club
Thank you to Ruth Scott, Bonaly, Edinburgh for sending me these three photographs of Edinburgh Aero Club in October 2006.
Ruth is daughter of James Wood, owner of Wood's Garage in Craighall Road, Edinburgh, from 1929 until around 1964.
James Wood was one of the founding members of The Edinburgh Aero Club.
The poster on the back wall is an advert for the Edinburgh Aero Club with the message: 'Members Wanted'.
Here are more photos of The Edinburgh Aero Club:
Here are more details about James Wood and his family:
Can you tell me anything about the picture at the top of this page? If so, please e-mail me.
Thank you: - Peter Stubbs: October 15, 2006
Reply
Thank you to Colin Osborne, West Wales, who replied:
"This photograph is the centre section of an Avro 504K.
The absolute giveaway is the shape of the nose skid at the bottom of the photograph and the rib structure at the top of the assembly."
Colin Osbourne, once Dean Village, Edinburgh; now West Wales: November 9, 2007