Edinburgh Aero Club
Established 1928
This page includes comments on the history of the Club
Edinburgh Aero Club - Turnhouse Aerodrome - Photo 1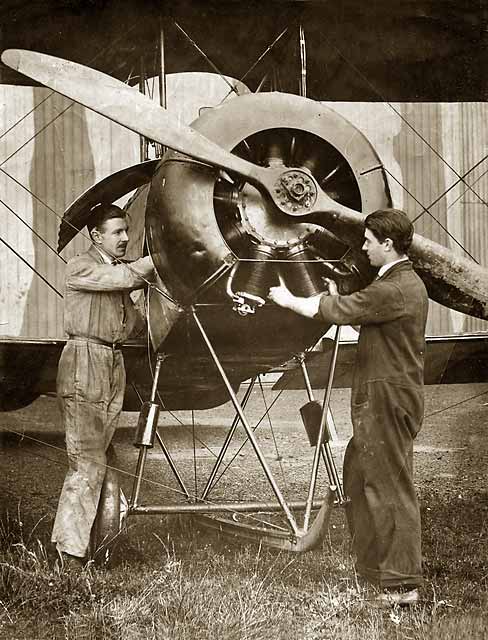 © Reproduced with acknowledgement to June Scott, Bonaly, Edinburgh
Edinburgh Aero Club
Thank you to June Scott, Bonaly, Edinburgh for sending me these three photographs of Edinburgh Aero Club in October 2006.
June is daughter of James Wood, owner of Wood's Garage in Craighall Road, Edinburgh, from 1929 until around 1964.
James Wood was one of the founding members of The Edinburgh Aero Club. He is the figure on the right in the photograph above.
Here are more photos of The Edinburgh Aero Club:
Here are more details about James Wood and his family:
Can you tell me anything about the picture at the top of this page? If so, please e-mail me.
Thank you: - Peter Stubbs: October 15, 2006
Reply 1
Thank you to George T Smith, British Columbia, Canada who replied:
"I can not identify the aircraft they seem to be rebuilding, but the radial engine and wing position will give clues to WW1 aircraft buffs."
George T Smith, Nanaimo Vancouver Island, British Columbia, Canada: October 17, 2006
Reply 2
Thank you to Colin Osborne, West Wales, who replied:
"This photograph with the propeller is of an Avro 504K. The aircraft was introduced in 1918 as a RAF trainer, & was built in the thousands.
It was used in post-war years as a trainer by RAF, University air squadrons, clubs & private individuals. The ubiquitous 1920s light aircraft was even used in Alan Cobham's Flying Circus.
Some local aviation enthusiast is sure to know whether the Aero Club had their own, or whether this is a private machine under routine maintenance."
Colin Osbourne, once Dean Village, Edinburgh; now West Wales: November 9, 2007
Reply 3
Andrew Wood, Edinburgh, wrote:
History of Edinburgh Aero Club
"I am afraid I cannot add much information about Edinburgh Aero Club except to say that I can trace an Edinburgh Aero Club back to 13 Jan 1912, although by very shortly afterwards it had changed its name to East of Scotland Aero Club.
I have further references to an Edinburgh Aero Club from April 1914 but am not clear on whether the two are connected.
I am currently tracing the history of Edinburgh Flying Club Ltd, which was incorporated in 1935, and is till going - I am a member.
I suspect it probably grew out of Edinburgh Aero Club / East of Scotland Aero Club. I would be very interested in trying to establish a direct connection.
Andrew Wood, Edinburgh: December 27, 2008
I believe that some of the records of the Edinburgh Aero Club are now held by the Edinburgh Room at Edinburgh Central Library.
- Peter Stubbs: December 27, 2008