Lothian Buses Central Depot, Annandale Street - March 29, 2010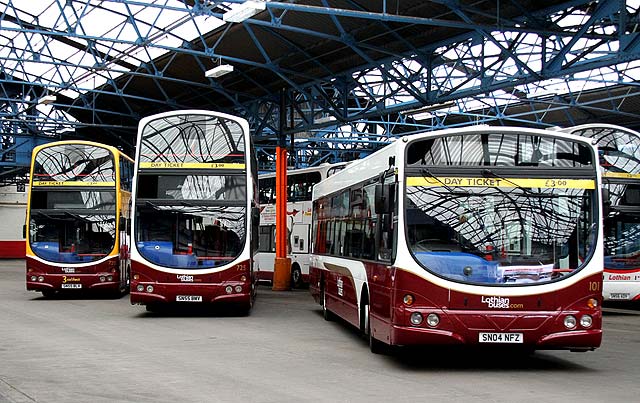 © Copyright: Donald Stirling, Polmont, Falkirk, Scotland Photo taken March 20, 2010
Lothian Buses - New Livery
Thank you to Donald Stirling for allowing me to reproduce this photograph, taken of the first three Lothian Buses vehicles painted in the new 2010 livery, similar to the former 'madder and white', but now described as 'wein rot, gold and white'.
This photo was taken on March 29, 2010, the day before the buses, 101, 720 and 725 went into service on routes 30, 3 and 23 respectively.
Acknowledgement for route details above: Steven Oliver, Duns, Borders, Scotland: March 30, 2010.
Update
August 2010
In recent months, many more buses, both double-deckers and single- deckers have been painted in this new livery, but no more buses have been given the new livery combined with the route brandied coloured roofs.
Peter Stubbs: August 1, 2010