Fire Engine
at Victoria Baths
Leith
See Reply 1 below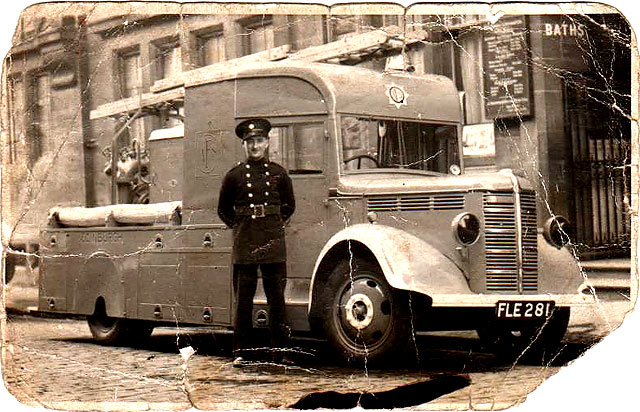 © Lesley Walls, Dalry, Edinburgh: August 13, 2012
Fire Engine at Leith
Thank you to Lesley Walls for allowing me to reproduce this photo.
Lesley wrote:
Fire Engine
"This photo is a postcard of my grandfather, George Smith Walls, in fireman uniform beside fire engine outside the old Victoria Baths, Leith. I'm not sure if it was taken before or after the fire brigades were merged."
My Grandfather's Family
"My father's side of the family (Walls) were from Leith. Dad grew up in the old Kirkgate, but eventually his family moved to Craigour Drive, Edinburgh."
Lesley Walls, Dalry, Edinburgh: August 13, 2012
Fire Engine
Edinburgh and Leith merged in 1920, so I assume that the two fire brigades would have merged at about the same time. The style of fire engine in this photo looks to me to be possibly around 1940.
Perhaps somebody will email me to let me know the year and model of this engine. **
Victoria Baths
I recognised Victoria Baths in the background as soon as I saw this photo. They are to the south of Great Junction Street, behind Dr Bell's School and across the road from the old fire station at Leith.
Here is a photograph of of Victoria Baths that I took a few years ago:
Peter Stubbs, Edinburgh: August 13, 2012
** Somebody did email me! Thank you to Ian Scott for 'Reply 1 below.
Reply
1.
Ian Scott
Hazlemere, Buckinghamshire, England
Thank you to Ian Scott who wrote:
1939-41
"The fire engine in this photo is a 1939 Bedford Heavy Unit.
The engine has the AFS emblem which was in use up to August 1941, so the photo is likely to have been taken between 1939 and 1941."
Ian Scott, Hazelmere, Buckinghamshire, England: August 18, 2012