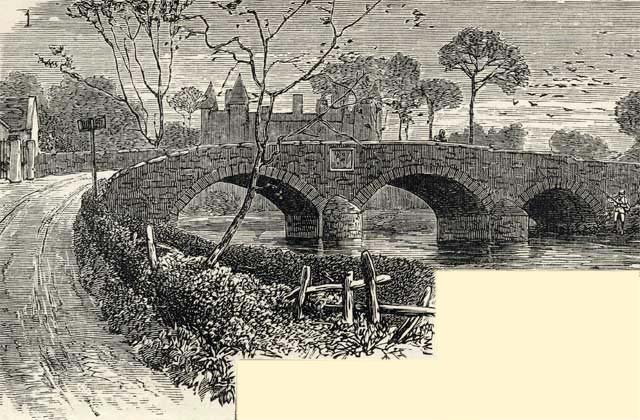 © For permission to reproduce, please contact peter.stubbs@edinphoto.org.uk
Old Saughton Bridge
This engraving above was one of four on a page in the book Old & New Edinburgh, published in 1890.
Old Saughton Bridge crossed the Water of Leith. The book, Old & New Edinburgh, described the bridge as consisting of three arches with massive piers, and having a square panel bearing the date of repairs, 1670.
George Smith writes:
"The OLD SAUGHTON Bridge above was probably in Ford's Road which was the main entrance to the Saughton Hall property until the concrete bridge at corner of Gorgie and Balgreen Roads was built to allow access to the 1908 Exhibition"
[George Smith, British Columbia, Canada - Dec 2004]
Reminiscences
Saughton Hall
The building behind the three-arched bridge in the engraving above is Saughton Hall which stood in 98 acres of land, built around mid-1600s, or perhaps developed from an even earlier building. It was purchased by Edinburgh Corporation in 1900 to be developed as a public park and housing. The building became derelict and dangerous and was demolished in 1952.
Further details can be found in a Historic Monuments (Scotland) report of 1929 which also includes a floor plan of the building. The report records that the property remained in the family of Robert Baird (who was knighted in 1695) from 1660 until the early 19th century.
It then became The Institute for the Recovery of the Insane, described as "a private lunatic asylum exclusively designed for the reception of Patients of the higher ranks".
Thank you to George Smith for providing the details above, and also for his reminiscences of the 1930s. George describes Saughton Hall as:
"a derelict building which teased my juvenile imagination. It was turreted and reminiscent of Dracula or perhaps The Munsters. I know it was owned by the Baird family (my mother was a Baird). The building was used as accommodation during the 1908 Exhibition."
[George Smith, British Columbia, Canada - Dec 2004]
Ken Smith of Calgary, Alberta, Canada recalls a story of an apparition:
"a 'white lady', which caused a stir at a concert in the park some time just before the Hall was demolished by the Royal Engineers and the Fire Brigade in 1952"
[Ken Smith, Calgary, Alberta, Canada, Feb 2005 - no relation to George Smith, above]
Saughton House
There was also a Saughton House which was demolished to make room for Broomhouse primary School. It stood on the Western side of Saughton Road and the Northern side of Calder Road.
[Joe McGuigan, Edinburgh: July 10, 2007]