Photos hanging on the wall at
Boys' Brigade
Battalion HQ
The Pavilion, Ferry Road, Leith
Who? When? Where? What make of car?
Answer: Gillespie Place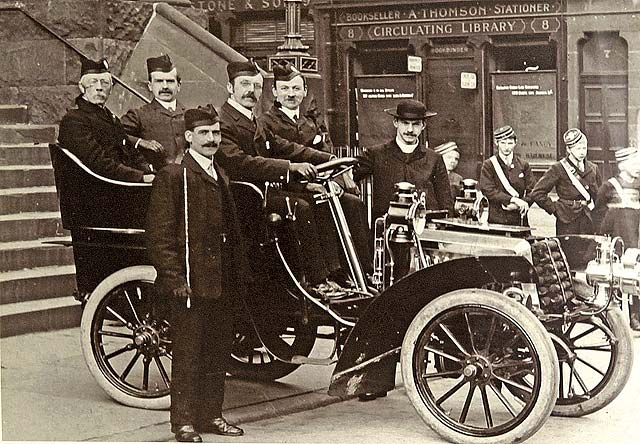 © Copyright: Peter Stubbs peter.stubbs@edinphoto.org.uk. Reproduced with acknowledgement to Alastair Chalmers, BB, Edinburgh
Reply
1.
Neil Lawrence
Fountainbridge, Edinburgh
Thank you to Neil Lawrence for sending me a reply, just a few hours after I added this picture to the web site:
Neil wrote:
Boys' Brigade - Old Car
"The photo of the Boys' Brigade and Old Car was taken in front of the Barclay Church. The shops in the background are Gillespie Place, No 8 being Archibald Thomson, Stationer, as per the 1901 Edinburgh Post Office Directory."
Neil Lawrence, Fountainbridge, Edinburgh: November 2, 2010
Reply
2.
Bozi Mohacek
Fountainbridge, Edinburgh
Thank you to Bozi Mohacek for his help in identifying the model of car in this photo.
Bozi wrote:
Boys' Brigade - Vintage Car
"We have circulated the photo to many of our experts who remained unusually quiet. Fortunately one of our venerable 'veteran' experts, Tim Harding, who is rarely wrong, says it is a c.1903 Darracq, probably the 8HP.
The steering wheel column gear change is apparently the clue. This car seems to have a narrow radiator profile. By 1904 and 'Genevieve' they had much more conventional 'modern' radiators."
Bozi Mohacek: Chairman & Webmaster, Surrey Vintage Vehicle Society: April 13, 2012
Another Boys' Brigade Car Identified
Thank you to Bozi for helping to identify the car above. This is the second Boys' Brigade vehicle that Bozi has helped to identify. Please click on the thumbnail image below to see the first car that he helped to identify - a c.1921 Angus Sanderson 14HP closed tourer.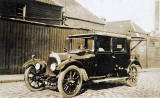 ©