Bruntsfield
Primary School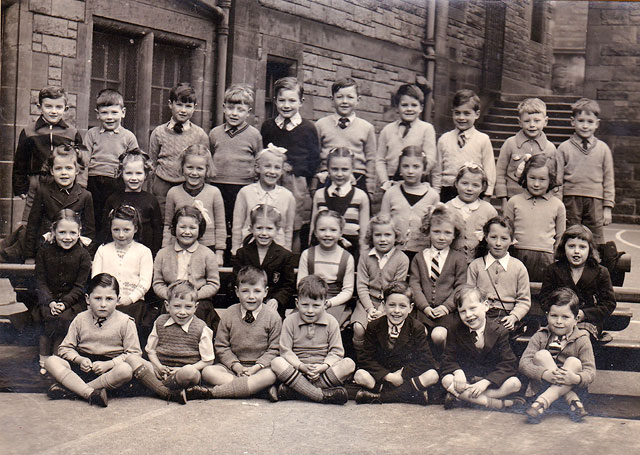 © Reproduced with acknowledgement to Gordon Keddie, Indianapolis, Indiana, USA Photographer not known
Recollections
1.
Gordon Keddie
Indianapolis, USA
Thank you to Gordon Keddie for sending me the photograph above of his class, P2, taken at Bruntsfield Primary School in 1951, together with the names of most of the pupils in this photo.
This is the second class photo that Gordon has sent to me. In 2008, he sent me a copy of a photo of his Class 2G taken at George Heriot's school in 1957-58.
Gordon wrote:
"I see that you are now looking for a Bruntsfield School photo from the 1950s. I can't help with 1954-56 (although I attended Bruntsfield in these years) but here is a photo of my Primary 2 class at Bruntsfield Primary taken in 1951.
Below are the names that I remembered and noted in 2003. I turned 68 today and so these folks are all of the same vintage."
Gordon added:
"Our swimming teacher was Ellen King who won a medal in the Amsterdam Olympics in 1928.
I remember Alan Smith and Lynne Webster. They were in the Sunday School at Viewforth Church.
My particular friends were Norrie McLeod and Ricky Reid. Norrie also went Heriot's and became an actuary. I think he lives in Juniper Green.
Gordon Keddie, Indianapolis, USA: December 30, 2012
Reply to Gordon Keddie
Thanks for your message, and photo and list of names, Gordon. You did well to remember so many names from a Primary 2 photo!
It's good to hear from you again, and to see the mention of Norrie McLeod.
I've known Norrie for a long time. We both worked for Standard Life and became actuaries. We both retired about ten years ago. Norrie moved to Swanston on the edge of the Pentland Hills on the outskirts of Edinburgh in 1999 and is still living there.
Peter Stubbs, Edinburgh: December 30, 2012
Bruntsfield Primary School

Class P2

1951

Back Row

2nd Row

3rd Row

seated

Front Row

on ground

1

Gordon Keddie

Jean?
? ?
Jimmy O'Toole
2
Alan Smith
Marion?
Winifred ?
Kenny Irvine
3
Billy Verden
? ?
Ellen ?
Billy Turner
4
Eric Jensen
Patricia Fairweather
Winifred ?
Andy ?
5
? ?
Pat Strugnall
Irene ?
David Martin
6
Garrick Stark
Eileen ?
Joyce Purves
Ricky Reid
7
Norrie McLeod
Ellen Moody
? ?
David Shaw
8
Dougie McLennan
Laura Spence
Eileen McIntyre
9
Patrick Smith
Lynne Webster
10
Jimmy Gourlay

Thank you to Gordon Keddie, Indianapolis, Indiana, US for providing all the names above.
December 30 + 31, 2012
Recollections
2.
Gordon Keddie
Indianapolis, USA
Gordon added:
Class Photos
"1952 was the only year between 1950 and 1956 that class photos were taken at Bruntsfield Primary, as far as I know.
Even when I went to Heriot's, there were only two photos taken of our class between 1956 and 1962, this one and one of class VI in 1961-62.
Heriot's, Class 2G - 1957-58
Gordon Keddie, Indianapolis, USA: December 31, 2012