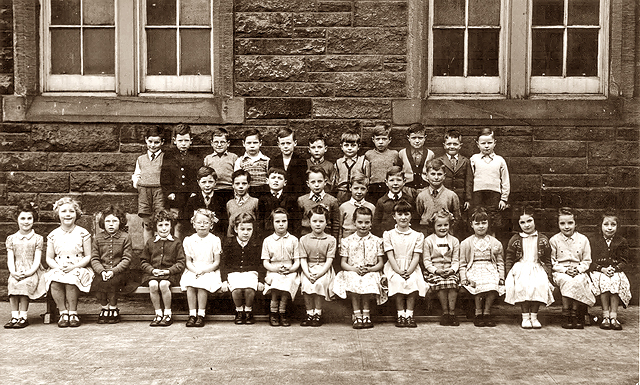 © Reproduced with acknowledgement to Janette Burden, née Drinan), London, England Photographer not known
Recollections
1.
Janette Burden (née Drinan)
London, England
Thank you to Janette Burden (née Drinan) for sending me the photograph of Dalry school, above, and for remembering the names of almost everybody in the photo. Please see the table below for a list of the names that Janette remembers.
Janette wrote:
School Class
"Photo 1 below is of my school class, taken around 1958.
Photo 2 below was taken around the same time and was already on the EdinPhoto web site.
"The one thing I don't understand is that there is a young man, Jim Wales, who is in both of these photos."
"My cousin, Angus Bain, is also in Photo 2. He is in the front row. I don't have a clue where he is now. I think he went to South Africa, years ago."
Janette Buren (née Drinan), London, England: June 6+7, 2012
Dalry Primary School

Around 1958

The pupils in this photo are (left to right):

Back Row

Middle Row
down from back

Front Row

1.

?

Douglas Thayne

Irene ?

2.

Drew Mossman

?

Ellen Fairgrieve

3.

Jim Wales

Douglas Hardy

Heather Scott

4.

?

Bobby Darling

Frances Hendry

5.

Billy Hogg

Andrew MacPherson

Sylvia Castle

6.

Randall Muir

Kenneth Edwards

Janette Drinan

7.

?

Jack Dow

Joyce Thomson

8.

?

Maureen Forrester

9.

Gordon Trainor

Olive Peterson

10.

George Wightman

Ray Kennedy (Lamb)

11.

Gordon Maclennan

Yvonne O'Connor

12.

Margaret Flockhart

13.

Linda Cairns

14.

Nancy Callan

15.

Catherine Grieves

Janette Buren (née Drinan), London, England: June 6+7, 2012