North Merchiston
School Class
Bryson Road, Edinburgh
Around 1920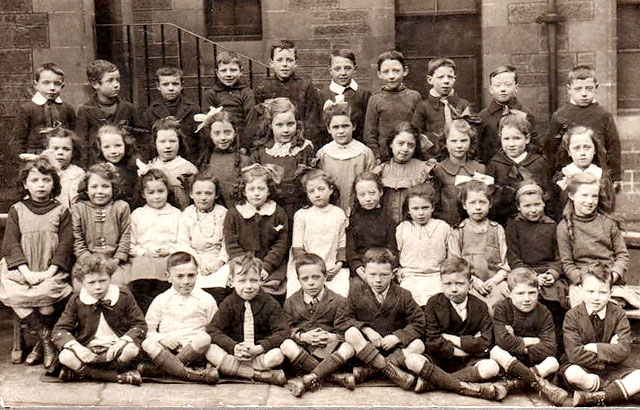 © Reproduced with acknowledgement to Lesley Walls Photographer: D&W Prophet, Dundee, Scotland
North Merchiston
Around 1920
Thank you to Lesley Walls for allowing me to reproduce this photograph of a class of 39 pupils.
Lesley Walls thought this was a photo of pupils at Darroch School when it was sent to me, but please see Reply 1 below
Lesley wrote:
School Rugby Team
"Here is a photo of a class at Darroch School, Edinburgh, taken around 1920 by D & W Prophet, Dundee.
My uncle, Archibald Donaldson is in the photo. I never met him, but we think he is 3rd from the right on the back row."
Lesley Walls, Dalry, Edinburgh: August 13, 2012
Reply
1.
David McBain
Baberton Mains, Edinburgh
Thank you to David McBain, who has been researching the history of Darroch School, for his latest correspondence.
David wrote
North Merchiston
School Class
Not Darnoch School
"I'm almost certainly that this photo is not of a Darroch class.
Around 1920
I strongly suspect that it is, in fact, North Merchiston School.
This photograph sent by John Clark of Miss Bremners class at North Merchiston school in 1947, although not conclusive, does seem to support this."
1947
David McBain, Baberton Mains, Edinburgh: March 28, 2014