1.
Beneath the Queen Victoria Statue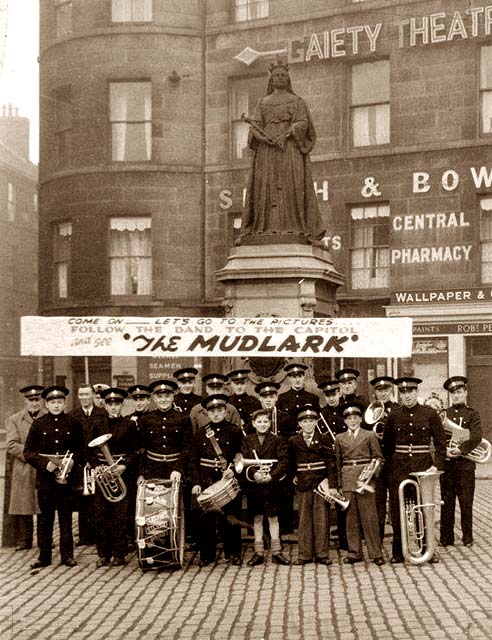 © Reproduced with acknowledgement to Jim Macfarlane.
2.
Band on Leith Town Hall Stage in 1950s
Please see Recollections 3 below for further details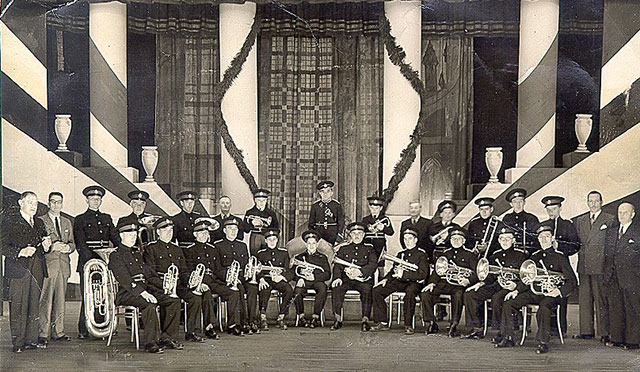 © Scotsman Publications Ltd. Click here for web site details. Reproduced with acknowledgement to Alex Elder.
Thank you to Jim Macfarlane who wrote:
Fit o' The Walk
"You can guess where this photo was taken. Queen Victoria oversees the Leith Silver (Brass) Band at the Foot of Leith Walk (1951-52).
The banner mentions 'The Mudlark'. This was a film about Queen Victoria, which is maybe why they posed there."
Cinemas and Theatres
"The Gaiety Theatre was in the Kirkgate, Leith. The Capitol (Cappy) was a cinema and theatre in Manderston Street."
The Band
"The words on the drum are 'Persevere - Leith Silver Band'.
- My Dad is at the front of the band with the tuba resting on the cobbles .Cobbled streets were commonplace then.
- Alex Welsh was in this band. He went off to lead his own jazz band."
Jim Macfarlane, Edinburgh: December 17, 2009 and September 18, 2010.
Jim added:
Details in the Photo
"There's a lot in this photo:
- Weekly Seamen Supplier is a bit baffling.
- Next to this, It looks like, 'Try Our Rolls'
- 'Ladylac' rings no bells in the paint shop.
- There is still a chemist there.
- Woolworth's, just out of the picture, only went recently.
- The Gaiety arrow points at a supporting wire for the trams.
- An occupier peers between the curtains below a window blind. The guy at the end is wearing his uniform under a raincoat. Spot the white cap."
Jim Macfarlane, Edinburgh: December 17, 2009 and September 18, 2010.
The Photographer
Jim Macfarlane believes that the photographer may well have been somebody that he knew of as 'Whitey' from Silverknowes, Edinburgh. Neither Jim nor I know how to contact him. If you know, please email me so that I can discuss copyright with him. Thank you.
Peter stubbs, Edinburgh: September 21, 2010
Reply
1.
Jim Macfarlane
Edinburgh
Thank you to Jim Macfarlane who wrote again telling me:
Whitey
"The photographer 'Whitey' mentioned above, was A Whyte.
In the 1950s, he was secretary of the Leith Silver Band and lived at 14 Pennywell Road, Edinburgh."
Jim Macfarlane, Edinburgh: September 22, 2010.
Reply
2.
Alistair McIntyre
Chichester, West Sussex, England
Thank you to Alistair McIntyre who wrote again telling me:
1950s
"This picture of Leith Silver Band must have been taken in the early- to mid-1950s.
I joined the band around 1957/58 as a young teenager. I only recognise the euphonium player on the right. He is Alec Kemp."
Alex Whyte
"I remember Alec Whyte, who is mentioned as perhaps being the photographer. He was the Secretary of the band and did a great deal to raise money for the band. He used to go round local businesses trying to get money.
I think Alec died in the 1960s. I remember visiting with a few other members of the band at his council flat. I think he must have been ill, hence the visit. At that time he stayed at the Crewe Toll end of Telford Road. He had played bass with the band and had been the Secretary - nice old man."
James Bertram
"James Bertram of Bertrams engineering company, next to the tram depot in Leith Walk, was a generous benefactor. I have a picture of him presenting a number of instruments to the band. The money to purchase these instruments came from Mr. Bertram.
In later years I often played in orchestras and brass ensembles with James Bertram who was a decent trombone player."
Band Conductors
"I played in Leith Silver Band, conducted firstly by Alec Elder then by Rab Snowden, until the band folded, some time in the late-1960s. I was minutes secretary and still have my handwritten minutes of band committee meetings. They should perhaps be in a local museum."
Alistair McIntyre, ex-pat Leither, now living in Chichester, West Sussex, England: May 16+17, 2011
Reply
3.
Alex Elder
Chichester, West Sussex, England
Thank you to Alex Elder who saw Photo 1 above, then sent me Photo 2 of the Leith Silver Band. This photo was taken on the stage at Leith Town Hall, in the 1950s.
Alex wrote:
on Leith Town Hall Stage
Photo
1.
The Band
"I read with great interest the comments from Jim MacFarlane and Alistair McIntyre about this photo. I, too, recall 'Whitey' and Alec Kemp."
Father and Grandfather
"My Father Alex Elder and my Grandfather John Elder both played in and conducted Leith Silver Band in the 1940s and 1950s.
Both appear in the photo above:
- My Grandfather is the gentleman in the dark jacket on the extreme left holding the baton.
- My Father is the first cornet player seated on the left of the front-row.
I inherited a conductors baton from my Father which was presented to my Grandfather on his retiral from the band in 1951."
Photo
2.
On Stage
"Here is a photo of the Leith Silver Band that appeared in the 'Evening News'. I believe that the photo would have been taken on the stage of Leith Town Hall, in the 1950s.
Unfortunately, this is a scan taken from a newspaper photo so the quality is not so good."
Alex Elder: December 30, 2014 (2 emails)
Reply
4.
Gerry McFarlane
Swindon, Wiltshire, England
Thank you to Gerry who read Alistair McIntyre's Reply 2 above and wrote:
The Conductor
"I was also a young member of the Leith Silver Band as a starter player (Gerald McFarlane tenor saxhorn) from 1966 to 1968 (?) and remember the conductor Rab Snowden. He was a painter.
I went to his house once and his work was on display, pop-art in style. I think he was keen to find a venue for his work. Rab used to 'stick his tongue out, lick his lips and chew on the appendage' when conducting - concentration maybe but an image I've never forgotten."
Brass Band Concerts
"I also played in a few brass band contests with Leith Silver. If I recollect correctly one was in London. I remember arriving at the hall (Albert Hall?) in the back of a small covered lorry. We were, dressed up to play with instruments in hand, 'straight on, straight off'.
Another venue was in Falkirk. It must have been the SBB division contests 1968. I played soprano cornet then and was given a decent write-up by the judges.
I think we were in the 3rd Division (for both of those contests), and remember going back to Edinburgh in this ramshackle single decker bus, swinging past Grangemouth in the darkness with the 'mature band members' drunk as skunks, Rab standing facing us with a bottle in his hand, next to the driver (who was also drinking). Now, that was a scary moment!"
School Pals
"I brought along a few of my Ainslie Park School brass band players with me who were 'keen to have a blow' with the band:
- Graham Junor, trombone
- Stuart Hockaday, baritone
- Eion Flint, cornet
- Michael Veitch, euphonium.
Young blood in the band, but we all went our own ways after 1968. I was sad to read it the band ended soon after that."
Message for Alistair McIntyre
"Alistair: If you have any photos of the band when we were there, I'd love to see them - and many thanks, again, for your recollections of Leith Silver.
I never thought I'd about the band. In fact, I was beginning to think I dreamt all of this!"
Gerry McFarlane, Swindon, Wiltshire, England: December 28, 2013
Reply
5.
Alex Kemp
Livingston, West Lothian, Scotland
Thank you to Alex Kemp who wrote:
My Father and Grandfather
"My Father, Alex Kemp, played the euphonium and is back right in photo 1 and seated front right in photo 2."
Photo
1.
Photo
2.
"My Grandfather, Willie Law, is at the back extreme right in photo 2. He was a fine cornet player in his day and I think he was presented with the 50 years service medal.
I have vague memories of Alex Elder as conductor when I was taken to rehearsals in Leith Town Hall as a small boy.
My Grandfather was not amused when I learned to play the bagpipes in 3rd Leith BBs instead the cornet with Leith Silver Band!
I bought a house in Restalrig Avenue from Rab Snowdon who was then a curator of art for the Stenhouse Trust."
Alex Kemp, Livingston, West Lothian, Scotland