Jackie Brown's welcome home to
Lyne Street
Abbeyhill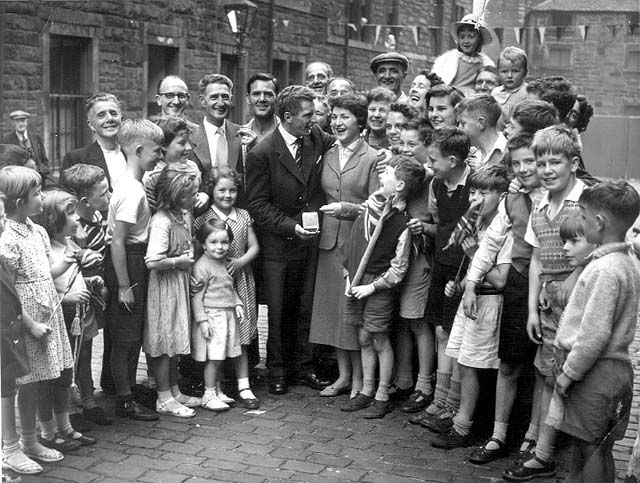 © Reproduced with acknowledgement to June Sutherland, the smallest girl in this photo. Photographer not known.
Jackie Brown
Thank you to June Sutherland for allowing me to reproduce this photograph of the boxer, Jackie Brown, being welcomed back to his home in Lyne Street, Abbeyhill, in July 1958 with the Gold Medal that he won in the Flyweight contest at the Empire Games (now Commonwealth Games) at Cardiff, Wales.
June wrote:
1958
Lyne Street Welcome
"I lived at Lyne Street from the 1950s until the 1970s, first in a ground floor flat, then in a top flat at 9 Lyne Street, the same address as Jackie Brown.
Does anyone remember me, or any of my family?
- I am the smallest child in this photo, in the centre, smiling at the camera.
- My brother, Ian, is centre-right, between the two boys holding flags.
- My sister, Irene, is on the far left, holding a flag.
My Dad, Colin Sutherland, was a freelance boxing reporter. He wrote for 'Boxing News' and the 'Daily Mail', and later for 'The Scotsman'' Sadly, he passed away in 1987.
June Sutherland, Oxfordshire, England: December 24, 2010 + January 2+4+8, 2011
Another Photo
Here is another photograph of the same homecoming. It was published on July 27 1958 in one of the papers in the The Scotsman group of newspapers, probably the Edinburgh Evening Dispatch.
Recollections
1.
Danny Callaghan
Falkirk, Stirlingshire, Scotland
Thank you to Danny Callaghan who wrote:
Jackie Brown
"My family were regular visitors to friends in Lyne Street at the time of Jackie Brown's homecoming. Our family friends stayed in the last tenement on left on the top flat, so must have been right opposite Jackie Browns house.
The family were Macara, Nellie and, I think, Jim. They had two sons older than me, Richard and Ronnie. They could possibly be in the picture, but I would not recognise them.
Around that time, they had a big win on the football pools and moved to Willowbrae Road. Richard became an architect and Ronnie a dental technician."
Danny Callaghan, Falkirk, Stirlingshire, Scotland: January 7, 2010
Recollections
2.
Bill Cunningham
Leith, Edinburgh
Thank you to Bill Cunningham who replied after seeing the photo sent in by June Sutherland.
Bill wrote:
Red Ensign
"I remember all June's family very well. I lived just along the landing from them, directly below Jackie Brown.
I am the wee guy in front of photo with the flag. It is a red ensign. My dad worked in a ship's chandlers in Leith.
I remember June's brother, Ian, introducing me to the noble art of boxing with gloves and knocking nine bells out of me. He was a bit bigger."
Bill Cunningham, Leith, Edinburgh: June 20, 2011
Groups in Edinburgh

Groups of Photographers

Groups and Outings All Pages