Dinner Monitors - In the Playground - 1951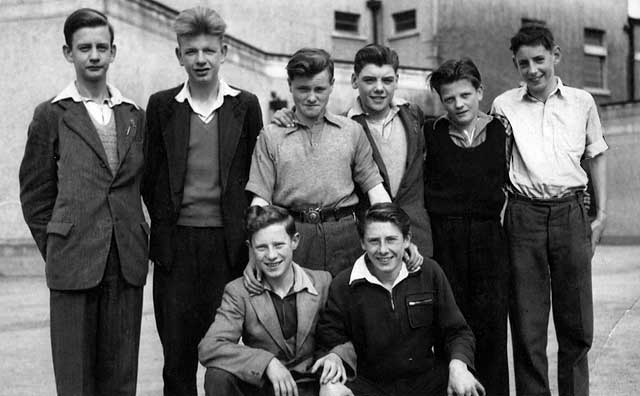 © Reproduced with acknowledgement to Roy Drummond, Canada
Niddrie Marischal School - Dinner Monitors
1951
Thank you to Roy Drummond, Canada, for providing this photograph of eight dinner monitors, taken in the school playground in 1951.
I feel that the hair styles capture the period well.
Roy wrote:
Dinner Monitors
"The group photo was taken in the playground of Niddrie Marischal school. We were Dinner Monitors, collecting dinner tickets and trying to keep the queue from getting too unruly - not much chance of that, but it could be quite amusing at times.
The photo was taken in 1951 and we were all in the same class, 3TCM, I believe."
Roy Drummond, Canada: August 9, 2008
Names
Roy has provided the names of the boys in this photo:
They are (left to right):
Back Row

Front Row

Willie Manson

Alan Hawthorne

Jimmy McIntosh

John Porter

Rab Fyfe

Robert Wallace

Irvine Roy

Roy Drummond
More Photos from Roy Drummond
Here are more photos that Roy Drummond has provided. Thank you, Roy
Peffermill School
Football Team - 1947-48
Niddrie Marischal School
Football Team - 1950-51
Niddrie Marischal School
Football Team - 1951-52
Recollections
1.
Rob Brennan
Rob Brennan wrote:
Bob Brennan
"My Dad', Robert (Bob) Brennan, was born in Craigmillar in 1933 and lived there until the 1940s.
He attended Niddrie Marischal School school around 1944-46. He remembers the following teaching staff:
- Mr Gunn
- Mr Gray (Art)
- Mr Scott (Science)
- Mr Houston (English)
- Mr Reynolds (PT)
He is extremely keen to get hold of any school records relating to the time he was at Niddrie. He would appreciate any information on how to access these records."
Rob Brennan: Feb 26, 2015
Recollections
2.
Paul
Paul McAlea wrote:
Tawse
"I bought a four-tailed tawse stamped 'Niddrie Marischal 54' at a car boot sale. It's a tan colour.
Does anyone know anything about it?
Thanks."
Paul: 30 September 2017
Reply to Paul?
All that I know about the tawses used in Scottish schools is that I believe that many of them were made in Lochgelly, Fife Scotland.
If you have any more information about them or memories of them, and would like to send a reply to the question that Paul asks above, please email me to let me know, then I'll pass on his email address to you.
Thank you.
Peter Stubbs, Edinburgh: 30 September 2017