143rd Gilmerton
Scout Group
1968
Picture for Calender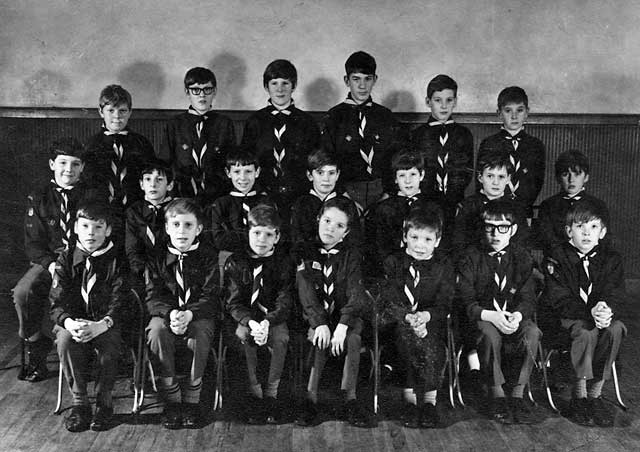 © Reproduced with acknowledgement to Forbes Wilson, near Guildford, Surrey, England (and to the photographer: see below)
143rd Gilmerton Scout Group
Thank you to Forbes Wilson for sending me the photograph above.
Forbes wrote:
Scout Meetings
"I've made reference to the 143rd Gilmerton scout group over the past few weeks on your site so I've dug out their photograph.
The photo is taken in the Gilmerton church hall located in Ravenscroft Street. The 143rd scout group would meet every Thursday night from 1930hrs - 2100hrs.
On the way home we'd all stop off in Willie Blair's fish and chip shop on Newtoft Street - fantastic chips, accompanied by the customary 1d pickled onion!."
The Photo
"This photo is taken in late 1968 and was used for the Christmas calendar. I'm located in the middle row, third from left.
The only name I can remember are Johnny Richards. He's in the front row, third * from left."
* Tom Collins says 4th from the left. See table below
If you know who took this photo, please e-mail me to let me know so that I can contact them.
Forbes wrote:
The Photographer
"There is no photographers name on the rear of the photo but from memory and to keep the calendar costs down, the father of the lad (front row, 2nd from the left) took the photo.
I believe the lad's father even developed the photos in his own room at home."
Forbes Wilson, near Guildford, Surrey, England: April 14, 2007
143rd Gilmerton Scout Group

Thank you to Tom Collins for supplying most of the names on this photo.

Tom wrote:

1968

The names that Tom supplied are (left to right):

back row

middle row

front row

1

Alistair Louden

Tom Collins

Alan Rudge

2

Ian Ross

Vincent Kivlin

Martin

3

Alec Tait

Forbes

Alec ?

4

Steve Flagg

Duncan Robertson

Johnny Richards

5

?

Davie Tait

Ronnie Angus

6

George Richardson ?

?

Kenny Angus

7

Davie Crawford

?

Acknowledgement: Tom Collins, Bonnyrigg, Midlothian, Scotland: April 20 + 21, 2010

Acknowledgement: Tom Collins (again, after speaking to Kenny): May 3, 2010

Tom Collinx was born in 1957 and lived the early years of his life in the prefabs at Hyvot's Terrace. In the early/mid-1960s he moved to Gilmerton Dykes, then several more moves and has now settled in Bonnyrigg, Midlothian, Scotland.