St Francis' School
Niddrie Mains Road, Craigmillar
1957
Football Team - 1957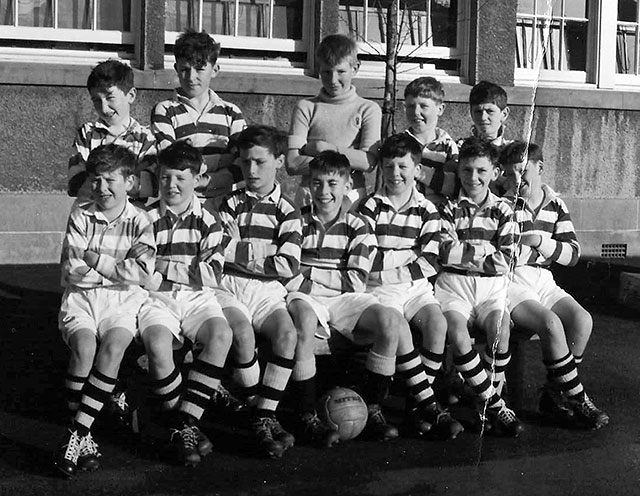 © Gerald Chaplin. Reproduced with acknowledgement to Andrew Gilligan, West Edinburgh, who sent a copy of this photo to me.
Recollections
1.
Andrew Gilligan
West Edinburgh
Thank you to Andrew Gilligan for sending me the photo above, and a photo of his school class at St Francis' School, also taken in 1957, together with the names of the pupils in these two photos.
Andrew wrote:
The Photo
"I've had an interesting time reading the recollections of Niddrie where I grew up. I attended St Francis School from 1950 to 1957. Here is of the football team, taken in 1957.
The players in this photo are (left to right):
Football Team

1957

Back Row
Front Row

1.

Andrew Gilligan

Trevor Williams

2.

John Moran

George Little

3.

Jimmy Cawkwell

Billy Igoe

4.

? Macnamara

Jim (Mick) McManus

5.

John Walker

John Wright

6.

George Collins

7.

Frannie? McCormick
Andrew Gilligan, West Edinburgh: September 5 + 6 + 7 + 7, 2014