Darroch
Secondary School
1916-18?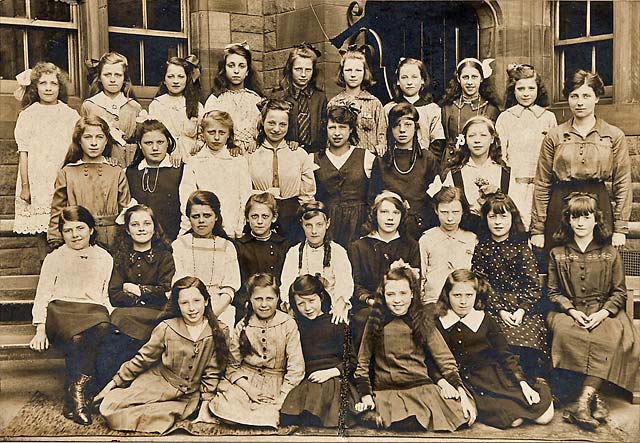 © Reproduced with acknowledgement to Ian Scott, Hazlemere, Buckinghamshire, England.
Darroch
Secondary School
Thank you to Ian Scott, Hazlemere, Buckinghamshire, England .for sending me this attractive photograph. Scott believed that these were Tollcross School pupils, but please see Reply 1 below.
The photo was taken by photographers, D & W Prophet, Edinburgh and Dundee, who took many school photos in the early- to mid-1900s. Ian tells me that the photograph was probably taken around 1916-1918.
The children appear to be very well dressed. A rug has been brought outside the school for the front row to sit on.
Reply
1.
David McBain
Baberton Mains, Edinburgh
Thank you to David McBain, who has been researching the history of Darroch School, for his latest correspondence.
David wrote
Darroch
Secondary School
Not Tollcross School
"I'm 99.9% certain that this photograph is in fact Darroch School. The background is exactly that of other photographs on my own website in the 1900-1950 section.
The Primary schools who sent pupils to Darroch Secondary were Tollcross, North Merchiston and South Morningside, and a few also came from Sciennes."
David McBain, Baberton Mains, Edinburgh: March 28, 2014