Torphichen Street School
1906
Year Six at Torphichen Street School, Edinburgh - 1906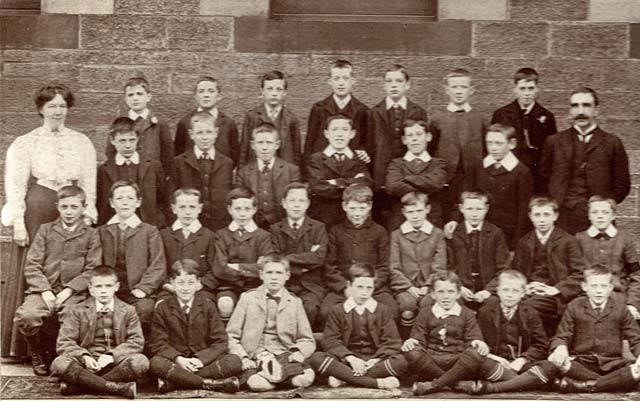 © Reproduced with acknowledgement to Ed Thomson, Glamis Castle, Angus, Scotland
Torphichen Street School
Thank you to Ed Thomson for sending the photograph above.
Ed wrote:
Torpichen Street School
"Here is the photo of year six at Torpichen Street School in 1906. The male teacher is Mr. Downie who was my late Father's teacher. My Father is standing next to him in the second back row.
At that time my Father lived at 4 Rosebery Crescent (basement!) and was 12 years old. He joined the North British Railway as a Toll Keeper in 1909 at Port Hamilton on the Union Canal. Apart from Military Service in the Royal Artillery during WWI. he was a railwayman for over 50 years.
Wardie School
"Mr Downie was the first Headmaster at Wardie School and it was a great surprise to my father and myself when I was enrolled at Wardie Primary in 1934!
Headmaster at Wardie School was Mr Downie's last appointment. He retired before World War II broke out and he was succeeded by Mr Vickers.
Ed Thomson, Glamis Castle, Angus, Scotland: November 20, 2006
Reply
1.
Margaret Young
Biggar, Lanarkshire, Scotland
I did not expect to receive a reply to a 1906 photo, but M Young wrote:
Torphichen Street School
1906
"I'm researching the family of my mother, Catherine Grace Ketchin, born 1899. The family moved from Fala village to Edinburgh in 1904, where my mother attended Torphichen Street School and won a prize there in 1906. She would have been 7 years old then. The infant mistress at that time was a M.E. Alexander
I found this photo of Year 6 at Torphichen Street Primary school on the EdinPhoto web site and would like to find more photos of the school classes and a photo of the school building.
My mother later attended Boroughmuir School and then Edinburgh University, graduating MB CHb in 1922/23, after which she did two tours at the Scottish Mission Hospital in Tiberias, Palestine.
Margaret Young, Biggar, Lanarkshire, Scotland: March 27, 2012