St Bede's Grammar School
Bradford, West Yorkshire, England
Fifth Remove and
Lower Sixth Forms
1961-62
In the School Grounds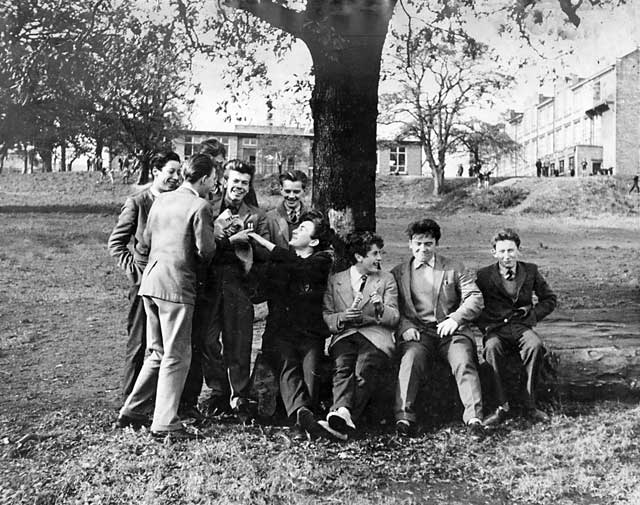 © Copyright: Peter Stubbs - please contact peter.stubbs@edinphoto.org.uk
In the School Grounds
This is one of a series of photos that I took one lunchtime in the school grounds, around 1961.
I was a member of the school's Photographic Society so was able to print these photos in the school's darkroom. The image above is taken from a 20 ins x 16 ins enlargement. I sold small copies of the photos at cost - probably about 4d each - to classmates.
I was interested to see that one of the photos from this series was added to the Friends Reunited web site recently (April 2004). I have now added the photo above to that web site.
LEFT to RIGHT
David Wilkins, Roger Wiczling, Bernard Wadsworth (partially hidden), Brian Onion,
Peter Netherwood, Sam Slater, Dennis Ridgeway, Peter Kilgallon, ... Dawson*.
* Please also see 'Reply 1' below.
Reply
1
Richard Hodgson
Sutton in Craven, West Yorkshire, England
Thank you to Richard Hodgson who wrote:
"I think the lad on the right of this photo, said to be Dawson is, in fact, Paul McNicholas - but I'm not 100% certain."
Richard Hodgson, Sutton in Craven, 'far side' of Keighley, West Yorkshire, England: April 23, 2014