Granton Square
and Granton Eastern Harbour
Looking down on Granton Square and across to Granton Harbour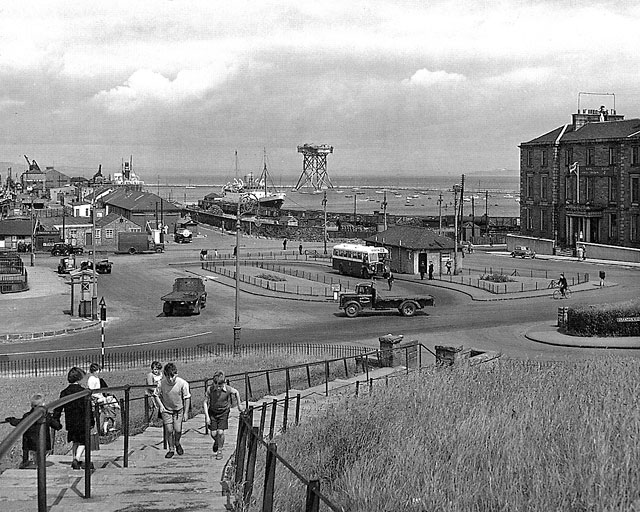 © Reproduced with acknowledgement to the Robert Grieves Collection and to Argyll Publishing
Granton Square
and Granton Eastern Harbour
Transport
This photo includes a wealth of information for anybody interested in transport in Edinburgh in the mid-20th century.
Perhaps somebody will e-mail me with a few comments about the vehicles and ships in this picture.
- Peter Stubbs: November 22, 2006
Answer 1
It didn't take long for the first comments to arrive! Within a few hours, Walter Lyle Hume, Cowes, Isle of Wight, sent the following comments.
Walter wrote:
The Closest Ship
"The closest vessel in the picture is at Lighthouse Pier. It is the twin screw motor ship 'Pharos VIII', built at Dundee by Caledon Shipyard: [1712 gross tons, 257-ft length, 39-ft beam, 13-ft deep.]
Pharos was used:
- as a relief tender for North Carr Lightship, Bell Rock, May Island, Bass Rock and Fidra Island
- for servicing beacons and buoys on the East Coast.
- for conducting the annual Inspection Commissioners cruise around all the Scottish coast.
Pharos was sold to Windjammer Cruises, Bahamas in 1988, renamed 'Amazing Grace', and is still in service."
The Distant Ship
"The ship berthed at the steam crane on east side of middle pier would have been loading coal, or possibly laid up. The coal conveyor clearly visible at end of middle pier, with trawlers on the west side."
Drilling Rig
"The drilling rig was moored in Granton late 50's, having been used by the National Coal Board in the area between Portobello and Port Seton."
Taxi Office
"The taxi office and kiosk can be seen on the left, in the middle of the picture"
Walter Lyle Hume, Cowes, Isle of Wight, England: November 23, 2006.
Answer 2
Thank you to Patrick Hutton, Edinburgh, who wrote:
The Railway
"An excellent photo. The tramlines have gone, so I'd guess the photo was taken in the late-'50s.
I think the locomotive is a J35 or J37.:
- The J35 locos were withdrawn by the end of 1962.
- The J37 locos lasted right until the end of Scottish steam in 1966-67.
If the engine has two windows in the cab side (which is not possible to tell from the web photo), it would be either a J38 (more likely) or a J39 (almost indistinguishable). I've seen a photo of one shedded at Seafield in the early '60s."
I've checked the original photo that I scanned, and it's still not possible to tell how many windows are on the cab side. - Peter Stubbs December 2, 2006
Patrick Hutton, Edinburgh: November 27 + 30, 2006, and also
March 7, 2010 (including comments from John Wilson)
Answer 3
I was also pleased to receive this reply, from Grant King, Aberdeenshire:
The Two Boys
"The two children coming up the steps are:
- on the right, Paul Lorimer and
- on the left, John Harkness.
This I got from a good source - Paul, who I grew up with."
Grant King, Aberdeenshire, now working in Rio de Janeiro, Brazil:: December 13, 2006.
Answer 4
Thank you to Hughie Grey, Australia, who wrote:
Post Office and Police Box
"On Granton Square there used to be the Post Office, good for sweeties. We used to buy cinnamon sticks to smoke. Yikes!
I wonder if the old police box is still there. I've been in it a couple of times. I even remember the Policeman's name. It was 'Big Archie' and he had a big 'back hand'.
Many of the old police boxes can still be found in the streets of Edinburgh, some now converted to coffee kiosks, but the one in Granton Square (above the road sign at the left-hand side of this picture) has been removed. - Peter Stubbs.
The Railway
We were always getting caught in the railway yards jumping on the wagons. I lived in Granton Medway, top stair. We had great fun as kids.
Oor Wullie couldnae dae better, eh!"
Hughie Grey, Australia:: March 5, 2007
Answer 5
Thank you to Denis Kelly, Edinburgh, who started his working life on Edinburgh buses, for writing:
1958
"Just looking at the Granton Square picture. I'd date it 1958. The bus is an Edinburgh Corporation Transport Bristol L6B with Brockhouse body, probably fleet no 764, which was a regular on route 17 between Granton Road and West End."
"The Bristol was new in 1950 and placed in service at McDonald Road. It was taken off mainline duties around 1959 and withdrawn in 1960. By 1959 double-deckers had taken over on route 17. Tram rails were lifted in 1957, so a good guess would be 1958 !"
Denis Kelly, Edinburgh, August 1+7, 2009
Answer 6
Thank you to Kim Traynor, Tollcross who wrote
HMS Claverhouse
"The building on the far right with the flag flying was H.M.S. Claverhouse where Sea Cadets were trained until, at least, the late-1960s.
My eldest brother served for many years in the Navy and this is what probably encouraged my other older brother to join the Cadets at Granton. The Cadets were taken out on the Forth to learn basic seafaring skills."
Kim Traynor: Tollcross, Edinburgh: September 21, 2009
This building was originally built as a hotel for passengers travelling from Granton Harbour.
Peter Stubbs: September 21, 2009
Answer 7
Thank you to Jim Woolard, Melbourne, Victoria, Australia who wrote
Distant Ship at Middle Pier
"The ship in the distance, on the east side of Middle Pier is a Liberian tramp steamer registered in Monrovia.
It was laid up there for a number of months"
Jim Woolard, Melbourne, Victoria, Australia: June 26, 2010