View to the SW, looking up
Leith Walk
from the 'Fit o' the Walk'
Statue to Queen Victoria at the Foot of Leith Walk
When might this photo have been taken? Answer: 1977 (See 'Reply 1' below.)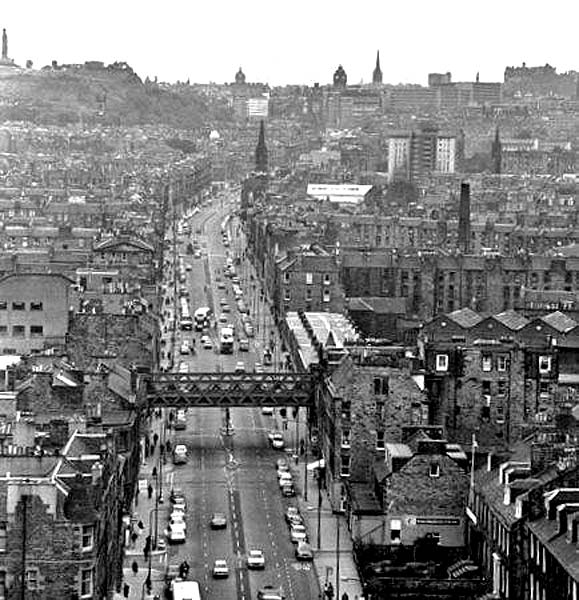 1. Reproduced with acknowledgement to John Darcy: March 16, 2010, and to Bob Moffat. Photographer not known.
2. Update: Source now discovered. See 'Reply 1' below:
© Scotsman Publications Ltd Click here for web site details. Licensed by Scran, Photo 818650: Scran 000-000-543-973-C
Leith Walk
Date of the Photo
This view looks up Leith Walk towards Edinburgh from the 'Fit o' the Walk'. When might this photo have been taken?
There are clues. It must have been some time between the completion of the St James Centre in 1970 and the demolition of Manderston Street Bridge, whenever that was. **
** Reply
Thank you to Steve Chambers for replying, telling me that the Manderson Street Bridge was demolished in September 1980, and for sending me two photos that he took of the bridge being demolished. Here is one of the photos. Please click on the thumbnail below to enlarge it:
Acknowledgement: Steve Chambers, Edinburgh: March 29+31, 2010
Steve: I have sent several replies to you to thank you for the emails and picture above that you have sent, but all my messages to you have been returned undelivered. If I should be using a different address to contact you please email me to let me know. Thank you.
Peter Stubbs: March 31, 2010
The View
FOREGROUND: - Manderston Street Bridge (now taken down)
MIDDLE-DISTANCE: - Church at the junction of Leith Walk and Pilrig Street
SKYLINE (left to right): - Calton Hill
- St Giles Church
- GPO (now Waverley Gate offices)
- Tolbooth St John's Church (now 'The Hub')
- St James Centre
- Edinburgh Castle
Reply
1.
Swans on the Water of Leith
Thank you to Susan Buckley-Ross for writing to tell me that this photo is also on the Scran web site, and was taken in 1977.
Susan Buckley-Ross, Leith, Edinburgh: November 14, 2010
The Scran web site shows that copyright for this photo is held by Scotsman Publications Ltd.