Edinburgh Streets
Leslie Place
Stockbridge
Milk Delivery Horse and Cart at Leslie Place, Stockbridge, Edinburgh - Early-1960s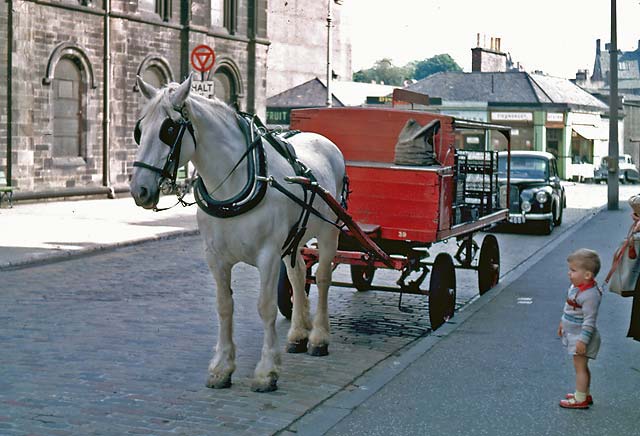 © Reproduced with acknowledgement to Elspeth Wallace, Cambridge, Ontario, Canada; formerly of Stockbridge, Edinburgh
Leslie Place
Stockbridge
Early-1960s and 2006
Both views look to the NE along Leslie Place towards Drumsheugh Street, part of the main road from Edinburgh that runs through Stockbridge and across the Water of Leith.
Shops
The shops in the background on the far side of Drumsheugh Street appear in both photos but between the early-1960s and 2006, but they have changed from:
- Rankins (fruit market)
- A & W Bird (newsagent)
- E & A Spiers (fishmonger)
to
- Thresher (wine shop)
- Stockbridge Newsagents
- Barnado's (charity shop).
Streets
The 'Halt at Major Road Ahead' sign has changed to traffic lights.
The street is still cobbled, but in the later picture it has double-yellow 'no parking' lines painted on it, and 'white vans' have replaced the horse and cart.
Housing
New apartments have been built behind the shops on land close to where a small scrap yard stood in the early-1960s, and in the background beside the Water of Leith
Stockbridge Church has been converted to housing. The frontage onto Leslie Place has changed from stone to brick but the large stone steeple of the church (out of picture, but in the background of this view) has survived.
Recollections
1.
Charlie Small
"Charlie Small wrote:
Dad's Horse and Cart
"This photo is of my Dad's horse and cart. My Dad's name was Jimmy Small. I remember helping him when I was at St Andrew's School. just up the road from where this photo was taken in 1970."
Charlie Small: March 6, 2011