Street Party
Murrayfield Avenue
To commemorate the Royal Wedding
of Prince William and Catherine Middleton
April 29, 2011
Road Signs and Flags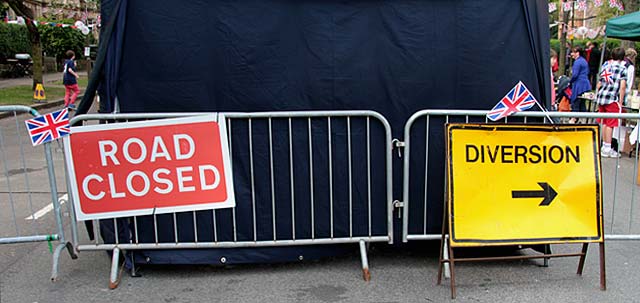 © Copyright: Peter Stubbs Photograph taken April 29, 2011
Street Party
Royal Wedding
Prince William married Catherine Middleton at Westminster Cathedral, London. on Friday April 29, 2011. The day was declared a Bank Holiday. Street parties were held to celebrate the occasion throughout Britain.
Murrayfield Avenue
The photo above and the two below were taken at the Murrayfield Avenue street party.
Dalhousie Terrace
I believe that about ten streets in Edinburgh held street parties. Here is a photo of one of the others. It was at Dalhousie Terrace, Morningside.