Links to a few pages on EdinPhoto web site
Shandwick Place
Looking East
Shandwick Place - 1955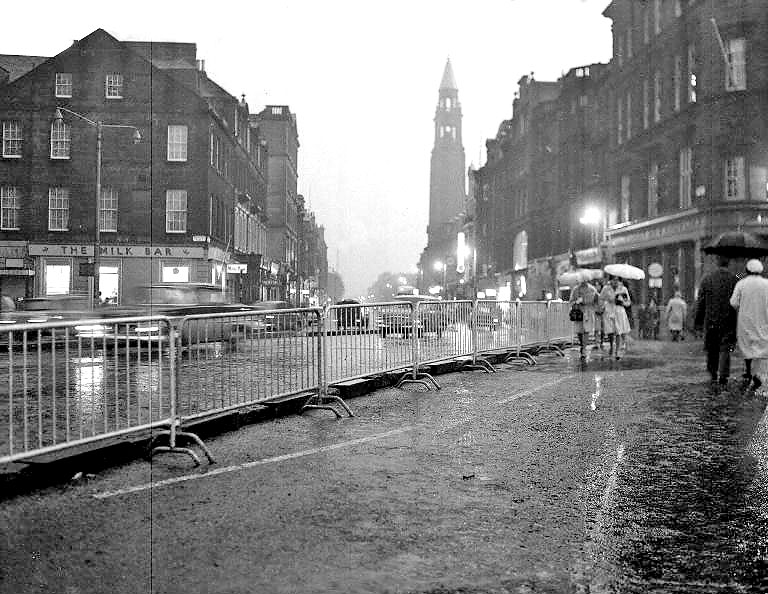 © Scotsman Publications Ltd. Click here for web site details. Licensed by Scran, Photo 98700 Scran 000-000-042-313-R Photo published Nov 12, 1961
The Milk Bar
Looking West
This photo looks to the west from the West End of Princes Street, down Shandwick Place towards St George's West Church, then on to Haymarket.
The photo was published by Scotsman Publications, possibly in the Edinburgh Evening News on November 12, 1961. Thank you to Stuart Lyon, Blackford, Edinburgh for telling me about this photo.
The Milk Bar
The Milk Bar on the left of this photo is one of the places remembered in this recollections page:
Frank Ferri wrote:
Milk Bar Era
"Does anyone remember the Milk Bar era?
There was one in South St David Street and another in Shandwick Place on the left.'
Frank Ferri, Newhaven: November 29, 2010
Dorothy Addison replied
Milk Bar
"The milk bar in Shandwick Place that Frank refers to was a wonderful place. If I remember correctly, we had to go up some steps to it.
I loved all those lovely fresh filled rolls they sold. There was a queue at lunch time every day.
It was 1954, and I worked in the dog salon at Gibbs in Shandwick Place at that time, washing and doing all these things to make the dogs look beautiful. This was done upstairs in the store."
Dorothy Addison, Tsawwassen, British Columbia, Canada: December 7, 2010
__________________

Links to a few pages on EdinPhoto web site