Links to a few pages on EdinPhoto web site
St Vincent Street
Inside
No 18
Looking to the South - 2010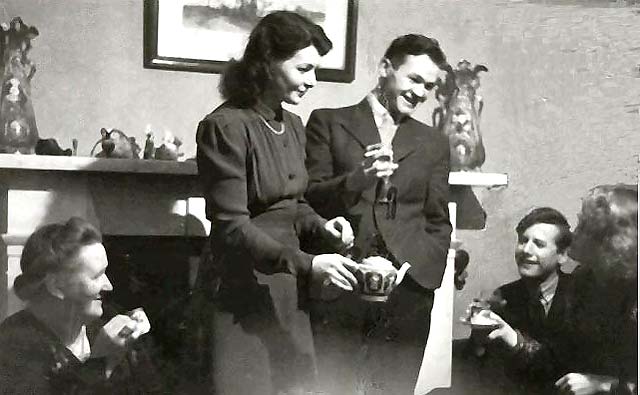 © Reproduced with acknowledgement to Elizabeth Fraser (née Betty Simpson), Sydney, New South Wales, Australia

St Vincent Street
Stockbridge
Thank you to Elizabeth Fraser (née Simpson) for sending the photograph of some of her family inside their house at 18 St Vincent Street, Stockbridge.
Elizabeth wrote:
Inside
No.18
"This photo was taken in the lounge room (front room as it was known) at 18 St Vincent's Street, around 1941.
My uncle posed some of the family and took the photograph. Of note is the marble fireplace with the servants' bell pull on the right hand side. There were several bells down in the kitchen, but my mother insisted they be taken off as she was fed up with my brothers being annoying!
I was contacted some time ago with the current tenants. The house has been changed enormously. There is no longer a marble fireplace in the house. It wasn't there when they purchased the property."
Elizabeth Fraser (née Betty Simpson), Sydney, New South Wales, Australia
April 16, 2012
__________________

Links to a few pages on EdinPhoto web site