Trinity Grove
Leading from Russell Place to Trinity Road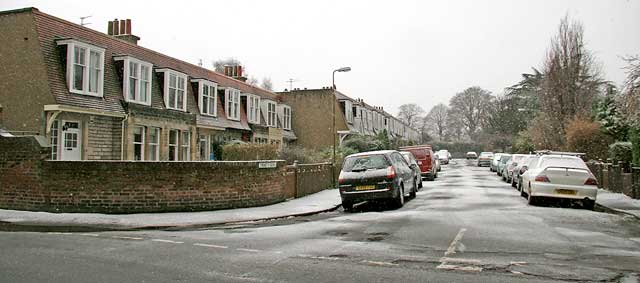 © Copyright: Peter Stubbs - please contact peter.stubbs@edinphoto.org.uk Photograph taken January 3, 2008 at 1.55pm
Stirling Road
Location
Trinity Grove is a small road in Trinity leading from Russel Place to Trinity Road. This photo was taken from Russell Place, looking to the west along Trinity Grove.
The photo was taken on the afternoon of January 3, 2007. This was the first day that snow fell in the area during the winter of 2007-08.
Lomond Park
Many of the houses in Trinity were built in the late 1800, large houses with gardens surrounded by high walls. The houses here, in Trinity Grove, are on a smaller scale. They were built in the late 1920s in the grounds of the 1789 villa, named Trinity Grove.