Water Street
Between the east end of Tolbooth Wind
and Commercial Street, Leith
Demolished 1912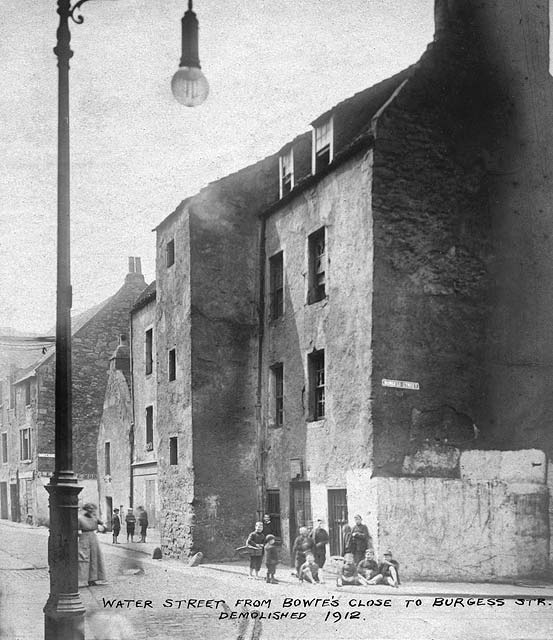 © Reproduced with acknowledgement to Archie Foley, Joppa, Edinburgh
Water Street
Looking West
This view looks to the west from the junction of Burgess Street and Water Street. The houses are on the NW side of Water Street. The street still exists but the houses were demolished in 1912.
I believe that the street sign immediately to the left of the lamp post reads 'BOWIE'S CLOSE' A little more investigation will be needed to discover more about the lettering on the building below this sign 'LEI...E WOR...' **
The sign on the building on the right, above the larger group of children reads 'BURGESS STREET'
** UPDATE: See 'Reply 1' below
Looking North
Here is another view of the same buildings, but looking at them from the other side, looking towards Leith Docks.
Acknowledgement: Archie Foley, Joppa, Edinburgh: January 14, 2010
This is one of a series of photos posted onto boards in an old album that Archie Foley acquired a few years ago. Archie believes that these are likely to be official photos that probably once belonged to Leith City Council.
Reply
1.
John Gray
Stenhouse, Edinburgh
Thank you to John Gray who replied:
Missing Words
"Maybe the missing words on this building say
'LEMONADE WORKS'.
John Gray, Stenhouse, Edinburgh: January 19, 2011