1.
'From Castle to Palace'
Artists and the Royal Mile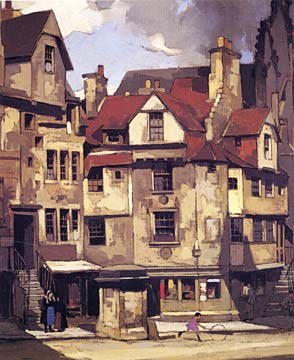 John Knox House by John Guthrie Spence Smith
© Reproduced with acknowledgement to City Art Centre
This exhibition tells the story of Edinburgh's Royal Mile and Edinburgh's Old Town. The Royal Mile leads from the Edinburgh Castle down the hill to Holyrood Palace, It is a popular area for street artists and tourists during recent Edinburgh Festivals.
The exhibition traces the history of the Royal Mile over several centuries, covering, trade, religion, murders, fires and royal visits.
It is illustrated with some impressive paintings from the City Art Centre's collection by artists including:
- John W Ewbank
- W Turner
- Alexander Ritchie
- J Stewart Smith
- John Guthrie Spence
There are also old engravings, old photographs and a few of my more recent photographs of the Royal Mile.