1.
Old Images of Edinburgh
and other photos - 1850 to 1950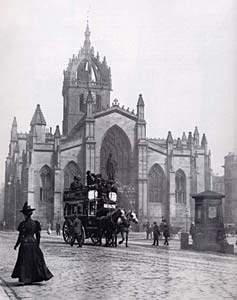 © The Yerbury Family, Edinburgh
About 60 photographs from the Yerbury collection covering the period 1850 to 1950 are displayed on the mall on the second floor of Ocean Terminal. Most are views of Edinburgh, though there are also other Scottish Views and a photograph of the first Scottish XV to play rugby against England.
Many of the photos were taken by E R Yerbury - 1843-1932, the founder of the Yerbury business, or his son, also named E R Yerbury. Others, including the view of the stagecoach in front St Giles Cathedral above are likely to have been taken by JC H Balmain, whose business was taken over by Yerbury in 1958.
Most photos are featured in the book Yerbury, A Photographic Collection, 1850-1993, but there were several others that I had not seen previously.
Copies of photos in the exhibition are offered for sale in Baxters.