Edinburgh Exhibitions - 2006
'Face à Faces'
Portraits / Self Portraits
Contemporary International Portrait Photography
11 February to 23 April 2006
Open 10am to 5pm (Mon to Sat)
Admission Free.
City Art Centre
Market Street, Edinburgh
Boy Dancing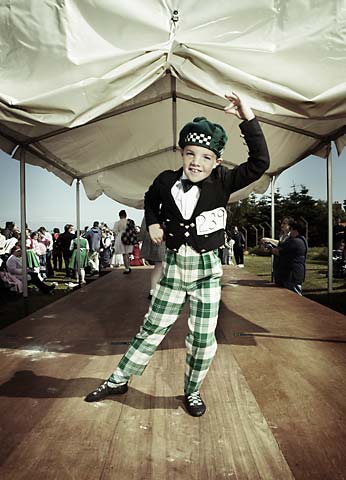 © Copyright: Euan Myles
Reproduced with acknowledgement to Edinburgh City Art Centre
The photograph above is one of three by Euan Myles in the exhibition. Each is approx 5ft x 3ft, printed on canvas.
The Exhibition
"This exhibition explores one of the key subjects of photography, the portrait, and especially the self-portrait, in all its variety of forms, from the snapshot, through documentary to the carefully stage-managed.
The exhibition looks at new tendencies in contemporary photography, contrasting the work of French-based photographers with both Scottish and other international practitioners, thus creating an international dialogue.
The exhibition includes work by Orlan, Kimoko Yoshida, Philippe Ramette, as well as Scottish photographers Wendy McMurdo and Euan Myles.
The City Art Centre is the first venue on the world tour of this important international project, initiated by Association Française d'Action Artistique (AFAA) and organised in association with the Institut Français d'Ecosse."
The comments above are taken from a 'City Art Centre' press release for the exhibition.
For further information, please call: 0131 529 3993